Wuer Kaixi held by Japanese police
SEEKING DIALOGUE The leading dissident, who once was No. 2 on Beijing's most-wanted student leaders list, could spend 48 hours in a Japanese jail for questioning
Wuer Kaixi (吾爾開希), a prominent student leader in China's 1989 ­Tiananmen Square pro-democracy protests, could be detained for questioning in Japan "for some time" after he was arrested upon entering the Chinese embassy in Tokyo on Friday, a Ministry of Foreign Affairs (MOFA) official said yesterday.
MOFA Deputy Spokesman James Chang (章計平) said Wuer Kaixi was being detained and questioned by the Japanese Azabu Police Station and that he might be held for as long as 48 hours before being sent to a prosecutor for further questioning tomorrow.
Chang said ministry officials stationed in Tokyo haven't been able to meet Wuer Kaixi, but had talked to Japanese police to better understand why he was being investigated.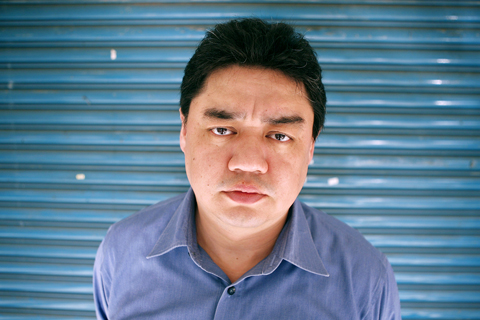 Wuer Kaixi, a former student leader who escaped to Taiwan after the Tiananmen Square Massacre in Beijing on June 4, 1989, poses for a photograph after an interview in Taipei on April 23 last year. He was arrested by Japanese police on Friday after he tried to push his way into the Chinese embassy.
PHOTO: REUTERS
Wuer Kaixi was charged with illegal entry into the Chinese embassy and vandalism, said an official who asked to remain anonymous.
He was arrested by Japanese police after he stormed onto the grounds of the embassy.
In a prerecorded video, Wuer Kaixi, who is now a Taiwanese citizen, said he wanted to return to China so he could lobby Chinese leaders to openly discuss the 1989 military action against Tiananmen Square student protesters.
"Today, I take this action to go back to China to continue to press the Chinese government for dialogue — even if this dialogue has to take place in a courtroom," he said.
Wuer Kaixi, who rose to fame during the Tiananmen protests by haranguing then-Chinese premier Li Peng (李鵬) during a televised meeting, was No. 2 on China's list of 21 most-wanted student leaders.
After the crackdown in Tiananmen Square, Wuer Kaixi went into hiding and was able to escape to France and later to the US, where he studied at Harvard University and the Dominican College in California.
He later married a Taiwanese.
On June 3 last year, the eve of the 20th anniversary of the crackdown, Wuer Kaixi traveled to Macau to announce that he would turn himself in to Chinese authorities.
He was subsequently deported back to Taiwan.
Exiled student leaders remembered the dead by hosting an online discussion on his Twitter account.
"In the past 21 years, we have never and will never forget them. We are just the lucky survivors. They are the true heroes," Wang Dan (王丹), who now lives in Los Angeles, said in a Tweet.
Additional reporting by AP
Comments will be moderated. Keep comments relevant to the article. Remarks containing abusive and obscene language, personal attacks of any kind or promotion will be removed and the user banned. Final decision will be at the discretion of the Taipei Times.