NBA: Jeremy Lin embracing his first all-star weekend
Jeremy Lin said on Friday that he was trying to embrace the moment and have fun with all the attention he is receiving during his first NBA all-star weekend.
Lin, who went from sleeping on his brother's couch to reviving the struggling New York Knicks franchise in just a couple of weeks, spoke after competing in the NBA's rising stars challenge game.
Lin shot one-of-four and finished with two points in just under nine minutes of playing time as his Team Shaq lost 146-133 to Team Chuck.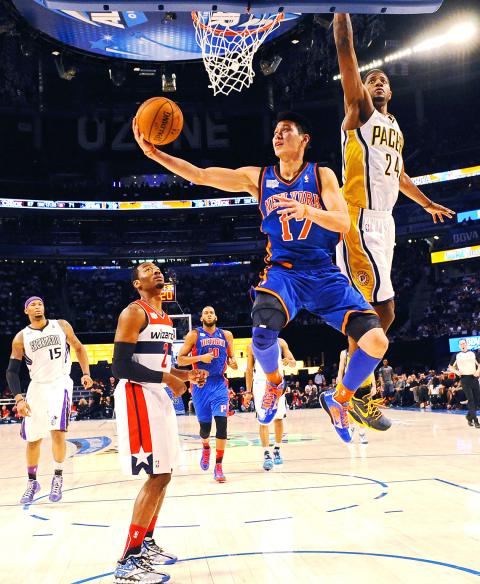 Team Shaq player Jeremy Lin from the New York Knicks, left, goes to the basket against Team Chuck player Paul George from the Indiana Pacers, right, in the second half of the NBA BBVA rising stars challenge game at the Amway Center in Orlando, Florida, on Friday.
Photo: EPA
"Just to be here and to see the company and all the players that are here is just, it's been unbelievable," Lin said. "I'm just trying to take it all in and embrace it and enjoy it every step of the way."
Lin said now that the contest was finished, he hoped to use the break from the regular season schedule to get some rest and prepare for the remainder of the season.
"I am just trying to relax, recover and let some pains go away," he said.
Cleveland Cavaliers rookie Kyrie Irving scored 34 points, added nine assists and was eight-of-eight from three-point range to lead Team Chuck to victory. Irving was named most valuable player of the game.
Greg Monroe had 19 points and 10 rebounds and Tristan Thompson added 20 points to lead Team Shaq at Amway Center arena.
However, even with all the star power in the game, Lin was getting the lion's share of attention.
"I'm definitely surprised that people are talking about Linsanity or whatever," Lin said. "I think hopefully as the season progresses, it will go from that to the New York Knicks and hopefully the Knicks can win basketball games. Hopefully we can make a good push after the all-star break and people will start talking about the Knicks and not necessarily me."
Lin, a Taiwanese-American, helped the Knicks to a seven-game win streak, but is coming off a modest performance in a 102-88 loss to Miami on Thursday. Miami's smothering defense held Lin to just one-of-11 shooting.
Lin's underdog story has touched basketball fans around the globe. Undrafted out of Harvard, he was cut by two clubs late last year before he caught on with the Knicks, signing two days after Christmas.
He saw limited action in his first nine appearances in New York, averaging just six minutes a game.
Then he scored 25 points off the bench against New Jersey, 28 against Utah, 23 against Washington and went off for 38 points against Kobe Bryant's Los Angeles Lakers and the legend was born as the Knicks won nine of 10 games with Lin leading the charge.
Lin said his ethnicity might have had something to do with him going unnoticed by NBA teams for so long.
"I think it has something to do with it, but I think just being Asian-American, obviously when you look at me, I'm gong to have to prove myself more so, again and again and again, and some people may not believe it," he said. "I know a lot of people say I'm 'deceptively athletic' and 'deceptively quick,' and I'm not sure what's deceptive, but it could be the fact that I'm Asian-American. But I think that's fine. It's something that I embrace, and it gives me a chip on my shoulder. But I'm very proud to be Asian-American and I love it."
The all-star weekend continued with the Slam Dunk Contest yesterday and then the 61st All-Star Game today.
Comments will be moderated. Keep comments relevant to the article. Remarks containing abusive and obscene language, personal attacks of any kind or promotion will be removed and the user banned. Final decision will be at the discretion of the Taipei Times.