SPEAK UP ! 雙語會話
Can hand dryers spread bacteria around? (3/3) 防疫抗菌該用烘手機?(三)
A: You also need to take care when using paper towels.
B: Aren't paper towels cleaner than using a hand dryer?
A: That's right. However, the germ count on a paper towel dispenser is also high.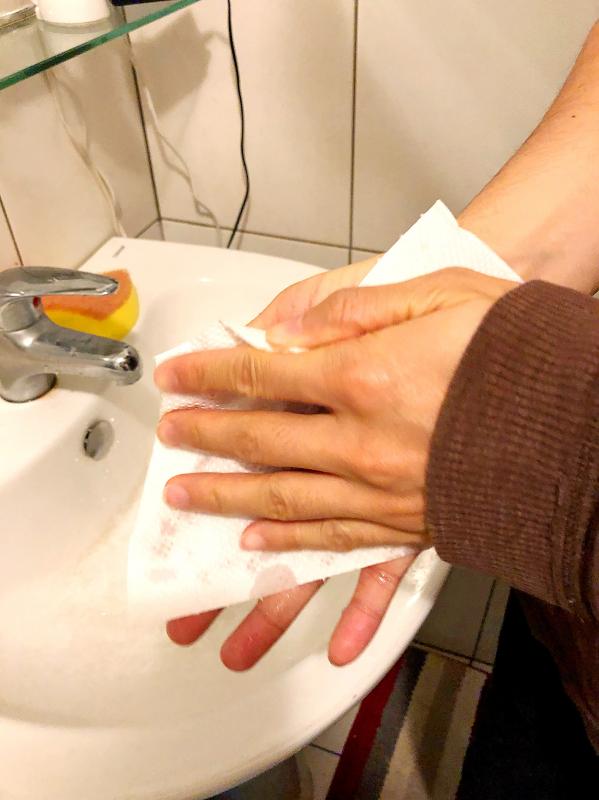 A person wipes his hands with a paper towel in Taipei. 有人用擦手紙擦手,攝於台北市。
Photo: Lo Chi, Liberty Times 照片:自由時報羅綺
B: Ah, I get it. So when using paper towels, it's important not to make contact with the dispenser.
A: 使用擦手紙也要注意。
B: 這樣不是比使用烘手機乾淨嗎?
A: 沒錯啦,但擦手紙架上的細菌量也不少。
B: 我懂了,在擦手時要注意盡量別碰到擦手紙架。
(Translated by Edward Jones, Taipei Times/台北時報張聖恩)
Publication Notes
LANGUAGE TIP 語文小提示
paper towel / hand towel
"Paper towels" are made of paper and are single-use. "Hand towels" are reusable (designed to be washed and reused) and are usually made from cotton.
Comments will be moderated. Keep comments relevant to the article. Remarks containing abusive and obscene language, personal attacks of any kind or promotion will be removed and the user banned. Final decision will be at the discretion of the Taipei Times.