SPEAK UP ! 雙語會話
Taiwan marks third-year anniversary of same-sex marriage (1/3) 台灣開放同婚三週年(一)
A: That's a really beautiful outfit. Going somewhere special?
B: I'm going to a gay friend's wedding, I'm so happy for them.
A: A gay wedding? I've never been to one before.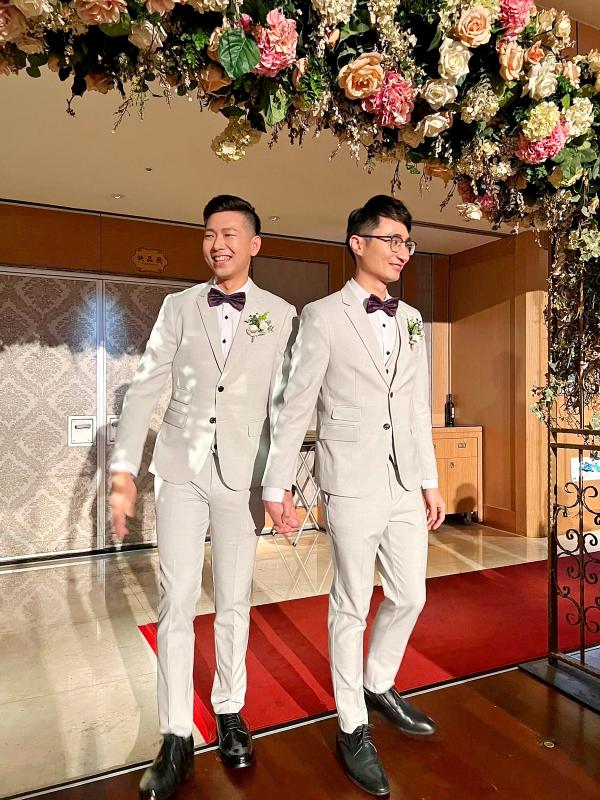 Two Taiwanese police officers tie the knot recently. 兩位台灣警官近日結婚。
Photo courtesy of Lin Li-shan 照片:林麗珊提供
B: More than 30 countries around the world have lifted restrictions on same-sex marriage. However, Taiwan is the only country in Asia to have legalized it.
A: 你穿得這麼漂亮,要去哪裡嗎?
B: 我正要去參加一對同志朋友的婚禮唷,真為他們高興。
A: 同志婚禮?我都沒去過耶。
B: 全世界已經有三十幾個國家開放同婚,但台灣是亞洲唯一同婚合法化的國家。
(Translated by Edward Jones, Taipei Times/台北時報張聖恩)
Audio recordings for Speak Up! dialogues will be suspended until further notice due to the pandemic.
Publication Notes
LANGUAGE TIP 語文小提示
lift restrictions on
You could also say "relax restrictions on" or "remove the ban on."
Comments will be moderated. Keep comments relevant to the article. Remarks containing abusive and obscene language, personal attacks of any kind or promotion will be removed and the user banned. Final decision will be at the discretion of the Taipei Times.