SPEAK UP ! 雙語會話
Let's download the Taiwan Social Distancing App (1/5) 快下載台灣社交距離App(一)
A: That's weird. Why have the real-name registration QR codes disappeared from public places?
B: That's because the Central Epidemic Command Center (CECC) has abolished the 1922 SMS Contact Tracing System.
A: Is there anything to replace it?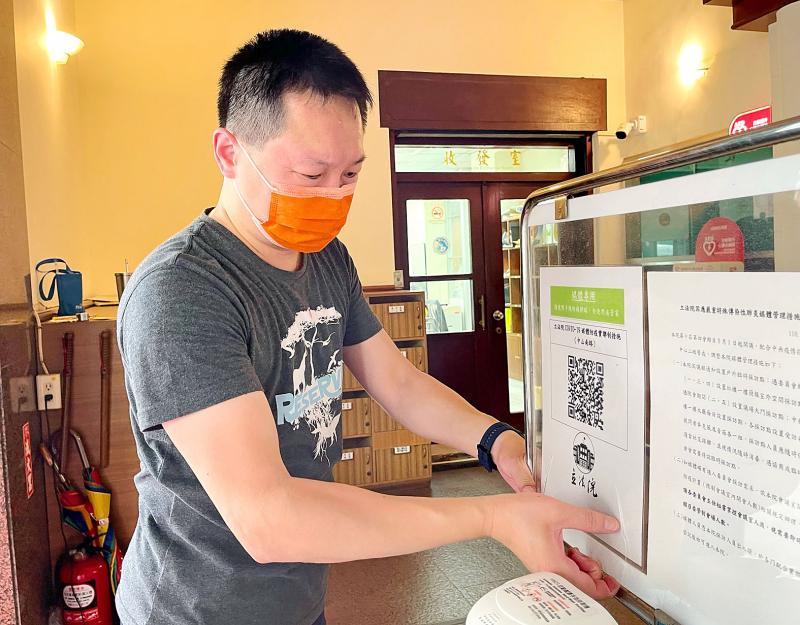 A worker removes the QR code outside the Legislative Yuan's main entrance. 立法院工作人員移除大門外的實聯制QR code。
Photo: CNA 照片:中央社
B: The CECC is encouraging everyone to use the Taiwan Social Distancing App. Haven't you downloaded it?
A: 奇怪,公共場所的實聯制QR code怎麼都不見了?
B: 中央流行疫情指揮中心已宣布,取消1922簡訊實聯制囉。
A: 那有什麼替代措施嗎?
B: 指揮中心鼓勵大家使用「台灣社交距離」App,你下載了沒?
(Translated by Edward Jones, Taipei Times/台北時報張聖恩)
Audio recordings for Speak Up! dialogues will be suspended until further notice due to the pandemic.
Publication Notes
LANGUAGE TIP 語文小提示
abolished
You could also say: canceled, terminated, rescinded or revoked.
Comments will be moderated. Keep comments relevant to the article. Remarks containing abusive and obscene language, personal attacks of any kind or promotion will be removed and the user banned. Final decision will be at the discretion of the Taipei Times.