SPEAK UP ! 雙語會話
World's richest man Elon Musk expands into social media (4/5) 首富馬斯克進軍社媒(四)
A: Many people around the world are discussing whether, after Musk purchases Twitter, the company might move out of San Francisco.
B: Another discussion point must be about the suspension of former US president Donald Trump's Twitter account.
A: Yep. Everyone is wondering whether Trump might have his account restored.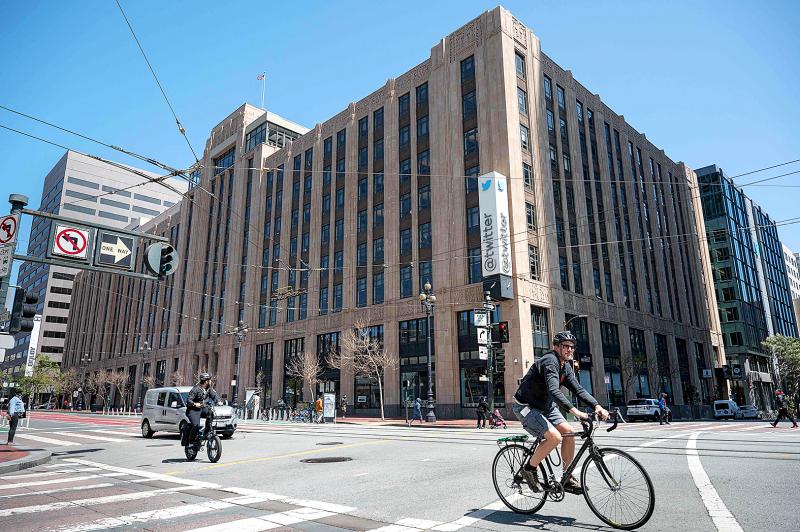 The Twitter headquarters in San Francisco. 推特的舊金山總部。
Photo: AFP 照片:法新社
B: Although Trump has already stated publicly that even if his account is restored, he would not use Twitter again.
A: 推特被收購後,外界都很關注設在舊金山的總部是否會遷移。
B: 另一個關注焦點應該是︰美國前總統唐納川普被停權的帳號。
A: 沒錯,大家都在猜川普能不能恢復帳號。
B: 不過他已公開宣布,就算恢復也不會再用推特啦。
(Translated by Edward Jones, Taipei Times/台北時報張聖恩)
Audio recordings for Speak Up! dialogues will be suspended until further notice due to the pandemic.
Publication Notes
LANGUAGE TIP 語文小提示
discussion point
You could also say "talking point" or "hot button issue."
Comments will be moderated. Keep comments relevant to the article. Remarks containing abusive and obscene language, personal attacks of any kind or promotion will be removed and the user banned. Final decision will be at the discretion of the Taipei Times.