SPEAK UP ! 雙語會話
Have you made any New Year's resolutions? (4/5) 你有什麼新年目標嗎?(四)
A: I should think a lot of people choose quitting smoking or going teetotal as their New Year's resolutions.
B: That's right. Other top New Year's resolutions include taking up a new hobby and spending less time on social media.
A: There are also people who resolve to do volunteering or charity work.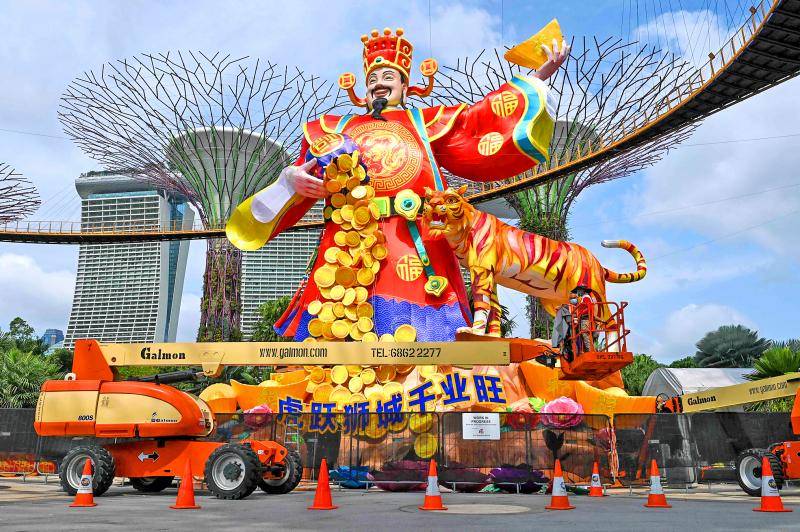 Lunar New Year celebrations around Asia: Singapore. 亞洲歡慶農曆新年︰新加坡。
Photo: AFP 照片:法新社
B: These are two really worthwhile resolutions.
A: 應該有不少人在新年時決定要戒菸或戒酒吧?
B: 沒錯,另外像是開始一項新的嗜好、減少花在社群媒體上的時間也都榜上有名。
A: 還有人立志要做義工或從事慈善活動。
B: 這種目標蠻有意義的!
(Translated by Edward Jones, Taipei Times/台北時報張聖恩)
Audio recordings for Speak Up! dialogues will be suspended until further notice due to the pandemic.
Publication Notes
LANGUAGE TIP
語文小提示
Going teetotal
This colloquial phrase means to abstain from (permanently give up) drinking alcohol. In Western countries, it has become popular to temporarily give up alcohol for one month after New Year, which is known as "dry January."
Comments will be moderated. Keep comments relevant to the article. Remarks containing abusive and obscene language, personal attacks of any kind or promotion will be removed and the user banned. Final decision will be at the discretion of the Taipei Times.