SPEAK UP ! 雙語會話
Is there anyone else with their hands free? (3/5) 有沒有其他人有空的?(三)
A: Is that my sandwich you are eating?
B: Whoops. You've caught me red-handed. I'm really sorry, I didn't have time to buy dinner, and I'm starving.
A: Don't worry about it. But you owe me lunch tomorrow. I was saving that sandwich for then.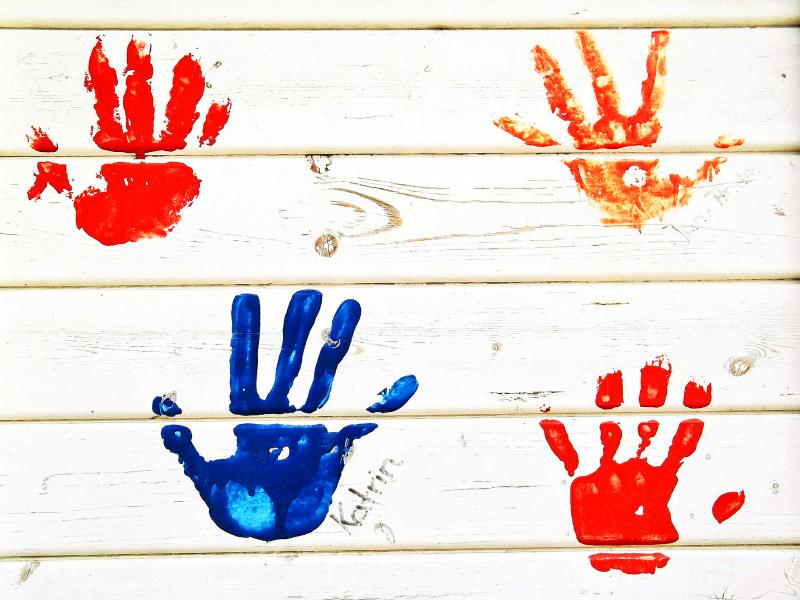 Colored hand prints. 彩色的手掌印。
Photo: Pixabay 照片:Pixabay
B: I'll do you better than that. How about I buy you a steak at the weekend, to say sorry?
A: 你吃的是我的三明治嗎?
B: 哎呀!被你抓到了!真的很抱歉,我沒時間去買晚餐,而且我好餓喔。
A: 沒關係啦,可是你要負責明天的午餐喔。那個三明治我本來是要等到明天午餐才吃的。
B: 我會加倍奉還。週末我請你吃牛排跟你賠罪,你覺得怎麼樣?
(Paul Cooper, Taipei Times/台北時報林俐凱譯)
Audio recordings for Speak Up! dialogues will be suspended until further notice due to the pandemic.
Publication Notes
LANGUAGE TIP 語文小提示
Catch somebody red-handed
This means that somebody has been discovered doing something wrong or illegal, either during or just after the act.
Comments will be moderated. Keep comments relevant to the article. Remarks containing abusive and obscene language, personal attacks of any kind or promotion will be removed and the user banned. Final decision will be at the discretion of the Taipei Times.