SPEAK UP ! 雙語會話
Can I mail instant noodles overseas? (5/5) 泡麵可以寄到國外嗎? (五)
A: May I ask, after I send the parcel, will I be able to track it?
B: Sure. If you go to the post office Web site inquiry page and enter the reference number, and you will be able to check its progress.
A: What's the reference number?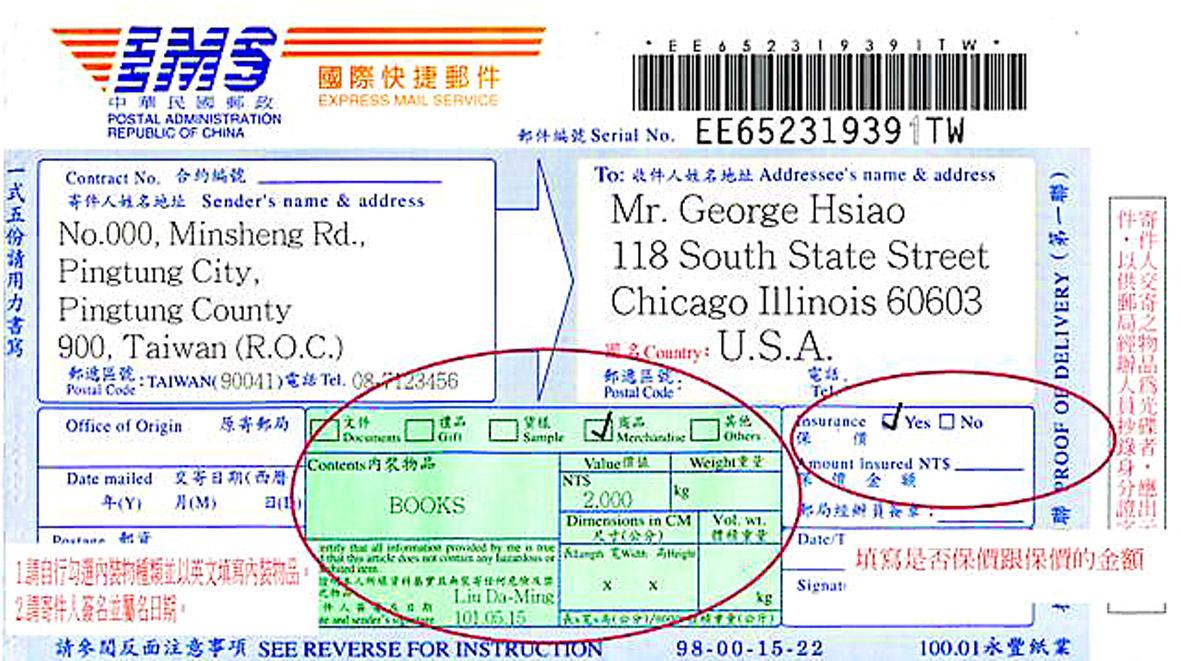 An example of how to fill out an EMS air waybill. 國際快捷託運單書寫範例。
Photo courtesy of Chunghwa Post Co., Ltd. 照片:中華郵政公司提供
B: It's a series of numbers on the sender's copy of the waybill, under the barcode, starting with the letter E, 13 digits long in total.
A: 請問包裹寄出以後,可以追蹤嗎?
B: 可以呀。你到郵局網站的查詢網頁,輸入郵件編號,就可以查詢它的處理進度。
A: 郵件編號是什麼啊?
B: 就是寄件收執聯上的一串號碼,在條碼底下,英文字母 E 開頭,一共十三碼。
(Translated by Paul Cooper, Taipei Times/台北時報林俐凱)
Audio recordings for Speak Up! dialogues will be suspended until further notice due to the pandemic.
Publication Notes
LANGUAGE TIP
語文小提示
May I ask…?
Of course you may. This is just a polite way to start a question.
Comments will be moderated. Keep comments relevant to the article. Remarks containing abusive and obscene language, personal attacks of any kind or promotion will be removed and the user banned. Final decision will be at the discretion of the Taipei Times.