SPEAK UP ! 雙語會話
What is that app anyway? (3/5) 那到底是什麼應用程式啊?(三)
A: What is that app anyway? First it sends you on a wild goose chase, and then it decides to tell you how to ride home when you haven't even got to your destination.
B: Tell me about it! Either I'm really stupid, or this bike app is badly designed. You don't need to say which one you think it is.
A: How much did you pay for it?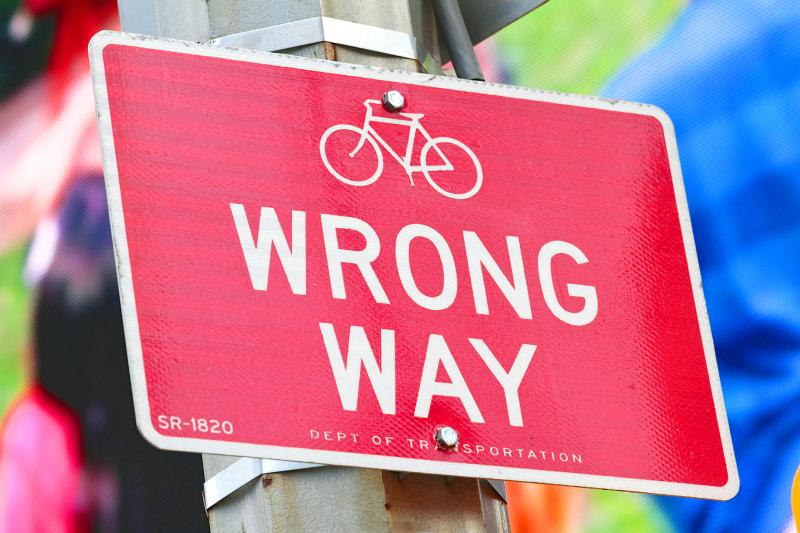 A wrong way road sign. 寫著「方向錯誤」的路標。
Photo: Pixabay 照片: Pixabay
B: It's free, but you have to pay if you want to access some premium functions. I'm doing the free week trial for the premium content, but if things go on like this…
A: 那到底是什麼應用程式啊?它先是指引你漫無目的地亂走,然後又告訴你要怎麼騎回家,你都還沒到達目的地咧!
B: 說的沒錯!不是我太笨,就是這個自行車App設計得太爛。你不用說哪一個才是對的。
A: 這App花了你多少錢啊?
B: 這是免費的。不過如果你想使用進階的功能,就必須付費。我現在用的是進階功能一星期免費試用,不過如果照現在的情況繼續下去的話……。
(Paul Cooper, Taipei Times / 台北時報林俐凱譯)
Audio recordings for Speak Up! dialogues will be suspended until further notice due to the pandemic.
Publication Notes
LANGUAGE TIP 語文小提示
Wild goose chase
This means a hopeless search for something unattainable. It apparently originates from a form of horse racing in the 16th century, when a "wild goose chase" was a race in which the lead rider was chased by other riders, in a formation similar to the arrow-head formation of geese following the one in the lead.
Comments will be moderated. Keep comments relevant to the article. Remarks containing abusive and obscene language, personal attacks of any kind or promotion will be removed and the user banned. Final decision will be at the discretion of the Taipei Times.