SPEAK UP ! 雙語會話
Burglars are supposed to be quiet (5/5) 小偷應該是不聲不響的(五)
A: Right, we could be sitting here all night, trying to work out what that sound is. I say we pluck up the courage to go and see what it is.
B: Good idea. We'll open the door together. There's safety in numbers. If there's only one of it, we'll outnumber it two to one.
A: I'm right behind you. One of us has to go first, and it might as well be you. Open the door slowly.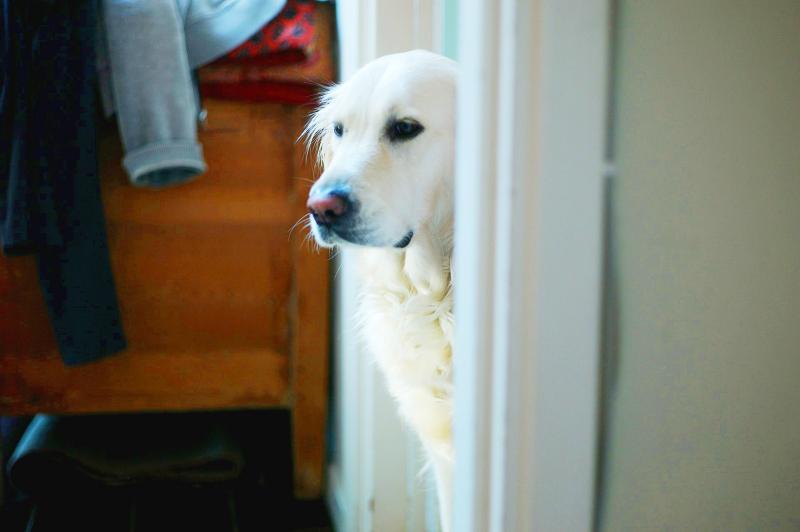 A dog waiting at the door. 狗兒在門邊等待。
Photo: Pixabay 照片:Pixabay
B: Wah! What was that thing brushing past my leg? I couldn't stop it in time! Run for your life!
A: It's the dog, you idiot. He wants to come in. I can't believe you thought it was a ghost.
A: 好了,我們可以坐在這邊整晚,想破頭要知道那到底是什麼聲音。讓我們鼓起勇氣,去看看那到底是什麼吧。
B: 好主意。我們一起把門打開,人多好壯膽,如果鬼只有一個,我們還可以兩個打一個。
A: 我就在你後面喔。我們總有一個人要走在前面吧,乾脆就是你了。你把門慢慢打開。
B: 哇!那是什麼東西刷過我的腳?我沒來得及擋住它!快逃啊!
A: 那是狗啦,你這個白癡。牠想要進來啦。沒想到你竟然以為那是鬼。
(Paul Cooper, Taipei Times/台北時報林俐凱譯)
Audio recordings for Speak Up! dialogues will be suspended until further notice due to the pandemic.
Publication Notes
LANGUAGE TIP
語文小提示
"I'm right behind you"
An offer of support, but often jokingly used in potentially dangerous circumstances to suggest that you will be safe behind the person in front of you.
Comments will be moderated. Keep comments relevant to the article. Remarks containing abusive and obscene language, personal attacks of any kind or promotion will be removed and the user banned. Final decision will be at the discretion of the Taipei Times.