SPEAK UP ! 雙語會話
I take my coffee black (1/5) 我喜歡黑咖啡(一)
A: Wow. That coffee smells great! I could smell it even before I walked through the door.
B: Not bad, eh? I've been sorting through the storage room the last few days, and I came across a coffee machine I had bought, and pulled it out.
A: Hmm, and you've given this room a thorough clean. Together with the coffee aroma, it has taken on a distinct hipster vibe!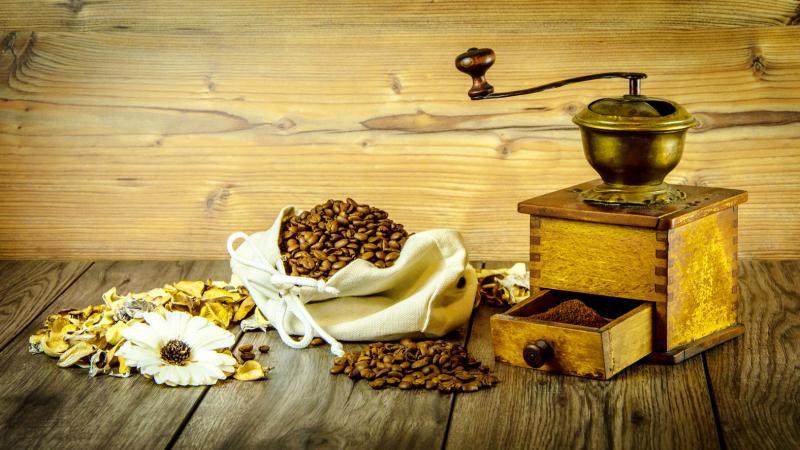 Coffee beans and a grinder. 咖啡豆與研磨機。
Photo: Pixabay 照片:Pixabay
B: We don't need to go out: the house is like a coffee shop now.
A: So, what's on the menu? Americano? Cappuccino? Latte? How about an espresso?
B: You can have whatever your heart desires!
A: 哇,咖啡好香喔!我還沒進門,就聞到了!
B: 不錯吧?我這幾天整理儲藏室,發現以前買的咖啡機,就拿出來用。
A: 嗯,而且你把屋子打掃得窗明几淨,配上咖啡香,忽然整個好有文青的味道喔!
B: 我們不用出門,家裡就是咖啡廳了。
A: 那請問你提供什麼咖啡呢?美式咖啡,卡布奇諾,拿鐵,還是義式濃縮咖啡?
B: 任君選擇!
(Translated by Paul Cooper, Taipei Times/台北時報林俐凱)
Audio recordings for Speak Up! dialogues will be suspended until further notice due to the pandemic.
Publication Notes
LANGUAGE TIP 語文小提示
Smell/Odor/Fragrance/Aroma
There are many words for "smell" in English. "Odor" is definitely unpleasant, both "fragrance" and "aroma" are pleasant, although the former is generally used for perfume and flowers, the latter for spices and savory food.
Comments will be moderated. Keep comments relevant to the article. Remarks containing abusive and obscene language, personal attacks of any kind or promotion will be removed and the user banned. Final decision will be at the discretion of the Taipei Times.