SPEAK UP ! 雙語會話
Have you checked all your pockets? (4/5) 你每個口袋都找過了嗎?(四)
E: Hi, is that Chen Hsiao-lin?
A: Speaking.
E: Hi, this is the Taiwan Bank credit card division. Somebody has found your credit card at an MRT station.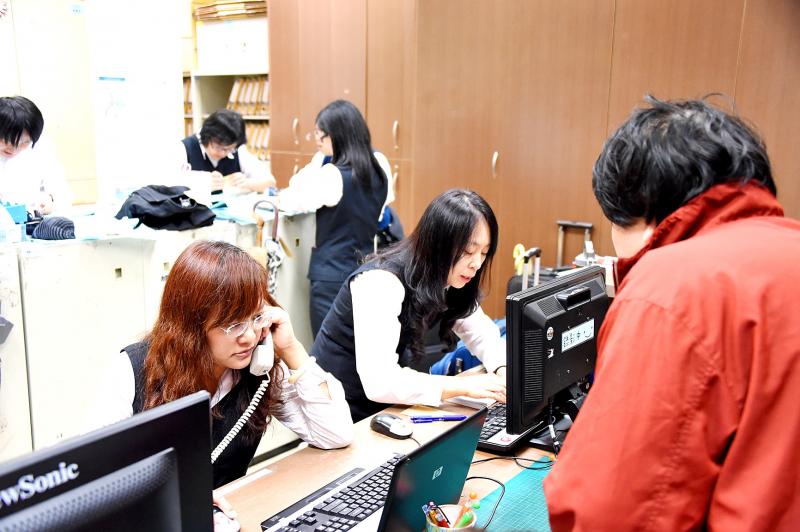 A Taipei Metro Lost and Found employee on April 6, 2018 calls a passenger wanting to retrieve a lost item. 台北捷運遺失物服務中心人員致電遺失物品之旅客。攝於二○一八年四月六日。
Photo courtesy of Taipei City Government 照片:台北市政府提供
A: Wow! Excellent! Oh, I was beside myself!
E: Can I ask you to contact the Metro Lost and Found to claim it? Their phone number is 02-218-12345. You will need to tell them your lost item number, which is 310178596. As you don't have the card on your person, we will put a temporary hold on it, and after you pick it up, please call us and we will reactivate it for you.
A: OK, thank you. That's great.
E: 喂,請問是陳小林嗎?
A: 對,我是。
E: 您好,我們這裡是台灣銀行信用卡部,有人在捷運站撿到您的信用卡。
A: 哇!太好了!啊我真是擔心得要命!
E: 那就麻煩您聯絡捷運遺失物中心去認領,他們的電話是02-218-12345,告訴他們你的遺失物號碼,是310178596。因為現在卡片不在你那邊,所以我們先把它停用,你拿回來以後,就再打電話給我們重新啟用卡片。
A: 嗯好的,真的是非常謝謝你!
(Translated by Paul Cooper, Taipei Times/台北時報林俐凱)
English 英文:
Chinese 中文:
Publication Notes
LANGUAGE TIP 語文小提示
"I was beside myself"
It means extremely upset, anxious or distraught, and refers to an unnatural state beyond your own body, looking at it from outside.
Comments will be moderated. Keep comments relevant to the article. Remarks containing abusive and obscene language, personal attacks of any kind or promotion will be removed and the user banned. Final decision will be at the discretion of the Taipei Times.