SPEAK UP ! 雙語會話
Have you checked all your pockets? (2/5) 你每個口袋都找過了嗎?(二)
A: Excuse me, I've lost my EasyCard. I think I left it on the train. Now I can't swipe out of the station.
C: Would you like to pay the excess fare?
A: I also have an iPass card, can I use this to pay the exit fare?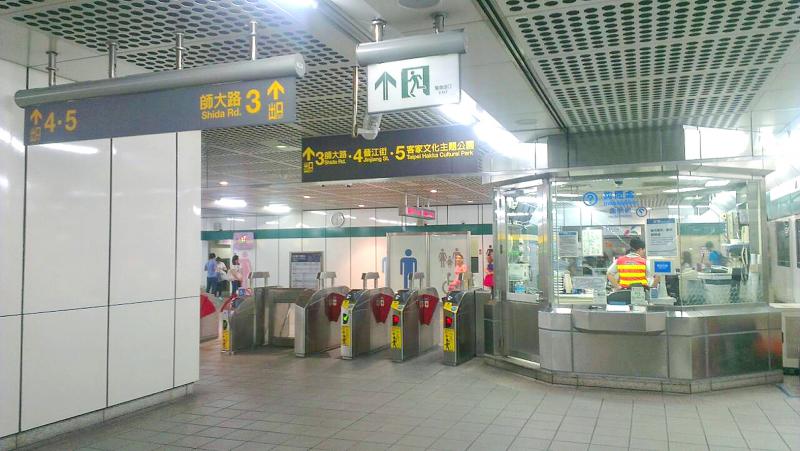 The ticket gate in a Taipei MRT station, with the information counter to the side, pictured on June 1, 2014. 台北捷運站出入口之驗票閘門,及一旁之詢問處(information)。攝於二○一四年六月一日。
Photo: Chen En-huei, Liberty Times 照片:自由時報記者陳恩惠
C: You can, but you won't be able to get a refund on the initial fare.
A: That's fine. We're a bit pushed for time. I'll worry about that after I get out of the station.
C: OK, it's done. You still have NT$72 left on your iPass card.
A: Thank you! Oh, one more thing… If I did leave the card on the train, how can I go about getting it back? It's a credit card linked to my EasyCard, and will top-up automatically, so I'm in trouble if someone else uses it.
C: I'll give you this form. It has the customer service number of the Metro Lost and Found on it. Give them a call in a while and ask them if anyone has handed it in.
A: 不好意思,我的悠遊卡不見了,可能掉在車上,所以沒辦法刷卡出站。
C: 那你要補票嗎?
A: 我這邊另外有一張一卡通,可以用這張再刷一次扣款嗎?
C: 可以,可是重複扣的車資沒辦法退還喔!
A: 沒關係,我們趕時間,先趕快出站再說。
C: 處理好了,這張一卡通餘額還有七十二元。
A: 謝謝!那再請問,我那張卡片如果是掉在車上,要怎麼找回來?那是悠遊卡聯名的信用卡,可以自動加值,所以如果被別人拿去用就慘了!
C: 這張單子給你,上面有捷運遺失物中心的服務電話,你待會可以打電話問有沒有人撿到送去。
(Translated by Paul Cooper, Taipei Times/台北時報林俐凱)
English 英文:
Chinese 中文:
Publication Notes
LANGUAGE TIP 語文小提示
"Pushed for time"
Synonyms include: in a hurry; in a rush; running late; need to get my skates on; I can't stop; I have to run.
Comments will be moderated. Keep comments relevant to the article. Remarks containing abusive and obscene language, personal attacks of any kind or promotion will be removed and the user banned. Final decision will be at the discretion of the Taipei Times.