SPEAK UP ! 雙語會話
Quite a day for getting dressed up (4/5) 盛裝慶祝的大好日子(四)
A: A friend of mine told me she saw US President Donald Trump in Tianmu that weekend.
B: I'm pretty sure she was mistaken.
A: She was just mucking around. She'd taken her family up there for a Halloween event. Somebody had put on a latex Trump mask and his trademark dark suit and red tie.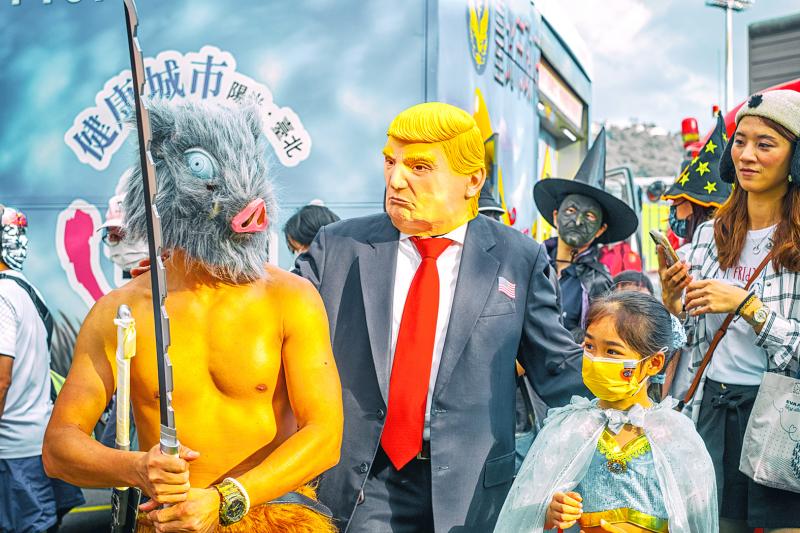 People dress up in fancy dress for a Halloween event in Taipei's Shilin District on Oct. 31. 民眾扮裝在台北市士林區參加萬聖節活動。
Photo: Paul Cooper, Taipei Times 照片:台北時報古德謙
B: What does the US president have to do with Halloween?
A: I think it was just a fancy dress free-for-all. There were people made up as all sorts of monsters, ghosts, ghouls, skeletons and zombie nuns, as well as public figures.
A: 我朋友跟我說,她那個週末在天母看到美國總統川普耶。
B: 我很確定她認錯人了。
A: 她只是在開玩笑,她帶家人到那裡去參加萬聖節活動。有個人戴著川普的乳膠面具,還有川普的標準打扮深色西裝、紅色領帶。
B: 美國總統跟萬聖節有什麼關係?
A: 我想這是大家都可以自由發揮的扮裝活動。大家打扮成各式各樣的妖魔鬼怪、骷髏和鬼修女,還有公眾人物。
(Paul Cooper, Taipei Times/台北時報林俐凱譯)
English 英文:
Chinese 中文:
Publication Notes
Language TIP 語文小提示
"Free-for-all"
Tips:
The dictionary definition of this says it means a brawl or violent confrontation without rules. It can also, as here, be used to mean a situation in which people decide their own rules.
Comments will be moderated. Keep comments relevant to the article. Remarks containing abusive and obscene language, personal attacks of any kind or promotion will be removed and the user banned. Final decision will be at the discretion of the Taipei Times.