SPEAK UP ! 雙語會話
Let's dine out tonight (3/5) 今晚我們去餐廳吃飯吧(三)
A: Hmm. . . I can't decide what to order. I'm hesitating between a lamb rogan josh or a beef vindaloo.
B: Well, let's order both and share the dishes. We can also order the tandoori king prawns that I was just eyeing up.
A: The prawn dish will perfectly complement the bottle of Australian Chardonnay that I've brought along. It's a great wine, with notes of peaches and lemongrass.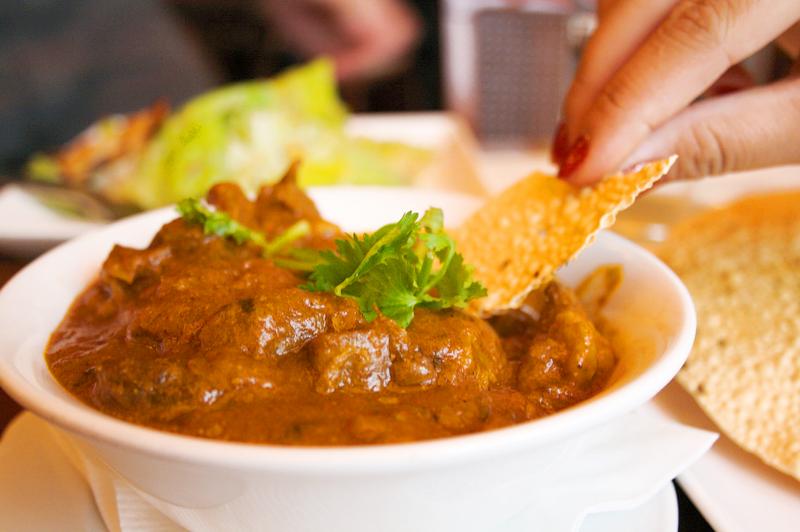 Lamb rogan josh curry is displayed in an undated photograph. 一道喀什米爾羊肉咖哩,照片日期不詳。
Photo: Wikimedia Commons 照片:維基共享資源
B: Cool! Let's also order some butter naan bread and pilau rice for two.
A: 嗯……我無法決定要點哪一道菜。我正在猶豫要點喀什米爾羊肉咖哩,還是辛辣香料牛肉咖哩。
B: 啊,那我們兩個都點,然後分著吃吧。我們還可以點一份坦都里香料烤明蝦,我剛剛一直在看這道菜。
A: 這道明蝦應該能完美搭配我帶來的這瓶澳洲夏多內白葡萄酒。這瓶酒真的很棒哦,帶有桃子和檸檬草的香氣。
B: 酷!那我們也點一些奶油烤餅,和兩人份的香料米飯吧。
(Edward Jones, Taipei Times/台北時報章厚明譯)
WARNING: Excessive consumption of alcohol can damage your health. / 警語: 飲酒過量,有害健康。
English 英文:
Chinese 中文:
Publication Notes
Language Tip 語文小提示
"eyeing up
Definition:
This means you are looking at something (or someone) in a covetous way.
Comments will be moderated. Keep comments relevant to the article. Remarks containing abusive and obscene language, personal attacks of any kind or promotion will be removed and the user banned. Final decision will be at the discretion of the Taipei Times.