SPEAK UP ! 雙語會話
Let's dine out tonight (2/5) 今晚我們去餐廳吃飯吧(二)
A: Hello, I'd like to book a table for two please. For 7 o'clock, if possible.
B: Certainly, sir. Let me see if I can fit you in. I'm afraid we're fully booked at that time, but we do have a space at 8pm.
A: No problem, 8pm will be fine.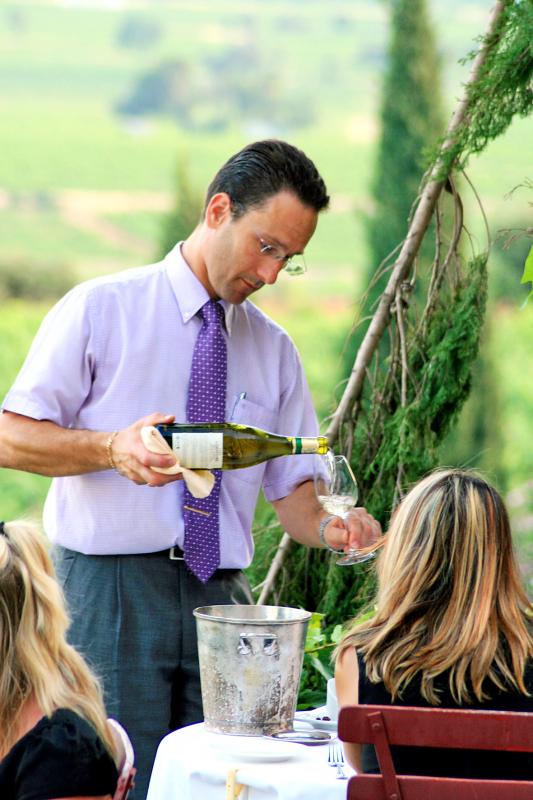 A sommelier pours wine at Hotel Chateau des Fines Roches in Chateauneuf-du-Pape, France in an undated photograph. (WARNING: Excessive consumption of alcohol can damage your health.) 一位侍酒師於法國帕普新堡Chateau des Fines Roches飯店倒葡萄酒,照片日期不詳。(警語:飲酒過量,有害健康。)
照片:維基共享資源 Photo: Wikimedia Commons
B: Thank you. I've reserved you a table for two for 8pm. Just to let you know, we operate a "bring your own" policy for wine, and corkage is NT$50 per bottle.
A: OK. See you later on.
A: 你好,我想要訂位,兩個人,方便的話晚上七點。
B: 好的,先生。讓我看看能不能幫您安排座位。不好意思,我們那段時間的訂位滿了,不過晚上八點還有空位。
A: 沒問題,晚上八點可以。
B: 謝謝您。我幫您預約晚上八點,兩個人的座位。另外,提醒您本餐廳關於「自行帶酒」的規定,每瓶酒酌收新台幣五十元開瓶費。
A: 好的。我們晚點見。
(Edward Jones, Taipei Times/台北時報章厚明譯)
English 英文:
Chinese 中文:
Publication Notes
LANGUAGE TIP
語文小提示
"Let me see if I can fit you in"
In this sentence, "fit you in" means to check whether a table is available at the requested time.
Comments will be moderated. Keep comments relevant to the article. Remarks containing abusive and obscene language, personal attacks of any kind or promotion will be removed and the user banned. Final decision will be at the discretion of the Taipei Times.