SPEAK UP ! 雙語會話
Time to brush up on my calligraphy (4/5) 我該重練書法了(四)
A: My favorite calligraphy style is probably cursive script: I like its flowing form. Which is your favorite style?
B: I like cursive script too. You should check out works by contemporary Chinese calligrapher Ouyang Zhongshi. His cursive script calligraphy is really stunning.
A: Thanks for the tip. I followed your advice and purchased a calligraphy brush and a practice cloth yesterday. I'm going to knuckle down for a long practice session this afternoon.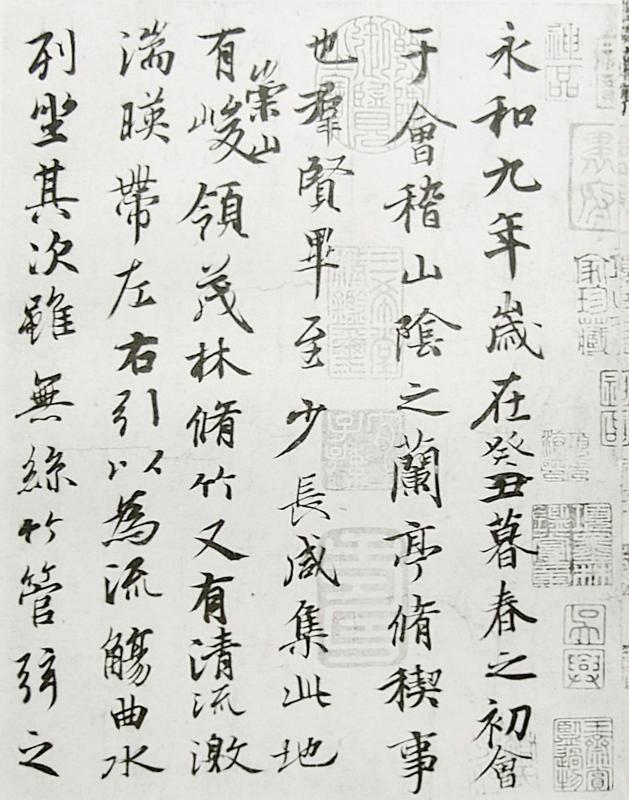 Jin Dynasty calligraphy Preface to the Orchid Pavilion written by Wang Xizhi in semi-cursive script. 晉朝王羲之行書書法:《蘭亭集序》。
照片:維基共享資源 Photo: Wikimedia Commons
B: Good luck!
A: 我最喜歡的書法風格大概是「草書」,我喜歡那自由流動的形式。你最喜歡哪一種風格?
B: 我也喜歡「草書」。你應該去看看當代中國書法家歐陽中石的作品,他的草書書法真的很讓人驚艷。
A: 謝謝你的提議。我昨天聽你的建議去買了一支毛筆和水寫練習布。今天下午要用一段長時間來認真練習。
B: 加油!
(Edward Jones, Taipei Times/台北時報章厚明譯)
English 英文:
Chinese 中文:
Publication Notes
LANGUAGE TIP 語文小提示
"knuckle down"
Definition: to conscientiously apply oneself to a task.
Synonyms: buckle down, apply oneself, put one's shoulder to the wheel, keep one's nose to the grindstone.
Comments will be moderated. Keep comments relevant to the article. Remarks containing abusive and obscene language, personal attacks of any kind or promotion will be removed and the user banned. Final decision will be at the discretion of the Taipei Times.