Photo News: Lone revelers brighten Notting Hill's empty streets on carnival day 從照片看新聞: 英國諾丁丘嘉年華取消 死忠鐵粉自行遊街
The Notting Hill Carnival, a highlight of the British summer, may have been canceled this year because of the COVID-19 pandemic, but a couple of colorful individuals on Monday were determined to bring some festival spirit to west London's quiet streets. The carnival, seen as a symbol of interracial tolerance, dates back to the 1960s and celebrates Britain's Afro-Caribbean community. It usually attracts more than a million visitors over the August Bank Holiday weekend, but its parade has been replaced this year by a virtual festival.
(Reuters)
諾丁丘嘉年華是英國夏日的亮點,儘管今年的活動因武漢肺炎(新型冠狀病毒病,COVID-19)疫情而取消,但仍有數人堅持上街,用繽紛的色彩為西倫敦安靜的街道帶來節慶氣氛。諾丁丘嘉年華被視為種族包容的象徵,始於一九六○年代,頌揚英國的加勒比海非裔族群。嘉年華通常在八月的公共假週末連假迎來逾一百萬遊客,但今年的遊街活動以線上活動代替。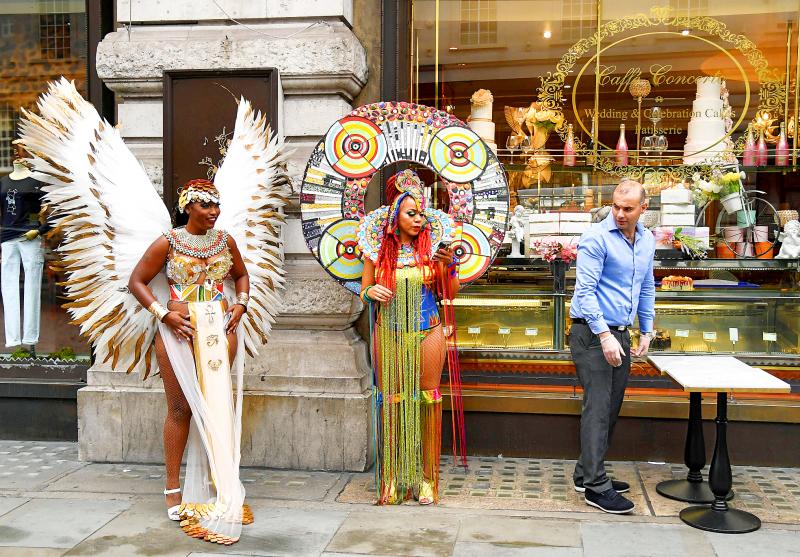 A man opens his cafe as Caribbean soca dancers display their costumes as they promote the first ever digital Notting Hill Carnival, following the cancellation of the normal carnival festivities due to the continued spread of the coronavirus disease (COVID-19) in London on Aug. 28. 盛裝的加勒比海索卡舞舞者,為首次以數位方式舉辦的諾丁丘嘉年華會進行宣傳,一旁的咖啡館店家正準備開始營業。八月二十八日攝於英國倫敦。武漢肺炎疫情持續擴散,二○二○年諾丁丘嘉年華之實體活動因而取消。
Photo: Reuters 照片:路透
(台北時報林俐凱譯)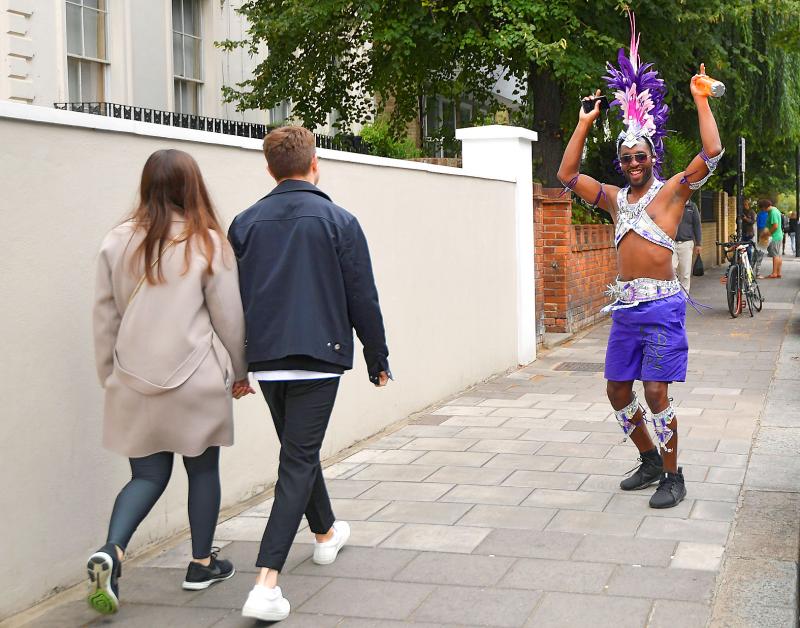 A reveler dressed in carnival costume dances after the normal Notting Hill Carnival festivities were canceled amid the coronavirus disease (COVID-19) outbreak, in London on Monday last week. 諾丁丘嘉年華因武漢肺炎疫情爆發而取消後,一名狂歡者仍穿戴嘉年華服飾手舞足蹈。上週一攝於英國倫敦。
Photo: Reuters 照片:路透
A man dances alone as he walks the route of the Notting Hill Carnival, as the main event has been cancelled due to the Coronavirus outbreak, in the area of Notting Hill, in London on Monday last week. Notting Hill Carnival 2020 will take place with live streaming performances. 諾丁丘嘉年華主要活動因冠狀病毒疫情爆發而取消之際,一名男子在英國倫敦諾丁丘一帶的嘉年華路線上獨舞。攝於上週一。二○二○年的諾丁丘嘉年華將以線上直播表演之方式舉行。
Photo: AP 照片:美聯社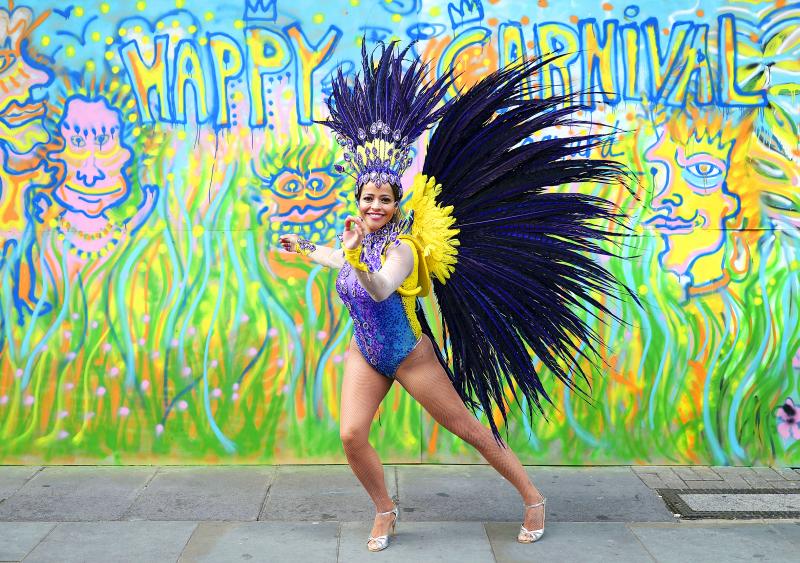 Pilates instructor Juliana Campos poses in her carnival costume in Notting Hill, London, UK, on what would have been the weekend of the Notting Hill Carnival, after the 2020 carnival was canceled due to the coronavirus pandemic, on Sunday last week. 皮拉提教練朱莉安娜‧坎柏斯,身著嘉年華服飾擺出姿勢。上週日攝於倫敦諾丁丘。諾丁丘嘉年華原應在上週末舉行,但今年的活動因冠狀病毒疫情而取消。
Photo: AP 照片:美聯社
Comments will be moderated. Keep comments relevant to the article. Remarks containing abusive and obscene language, personal attacks of any kind or promotion will be removed and the user banned. Final decision will be at the discretion of the Taipei Times.