SPEAK UP! 雙語會話
Do you believe in ghosts? (5/5) 你相信鬼嗎?(五)
A: I just thought of some other things you should avoid during the seventh lunar month.
B: Oh, such as?
A: Do not get married or start a new business during this inauspicious month.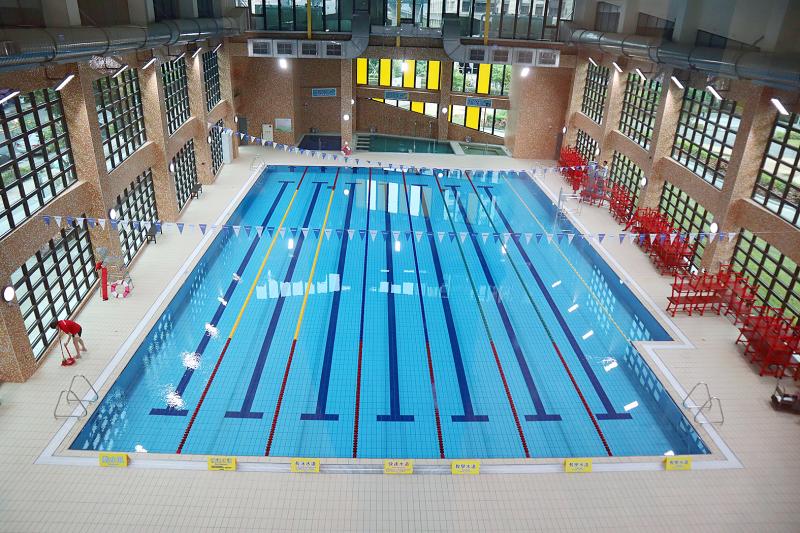 The swimming pool at New Taipei City Wugu Civil Sports Center is pictured on June 9. 新北市五股國民運動中心的游泳池,攝於六月九日。
Photo: Chou Hsiang-yun, Liberty Times 照片:自由時報周湘芸
B: I see. I once read that you shouldn't go swimming?
A: Correct. We believe that evil spirits who have drowned might try to drown you while you're swimming.
B: Well, if you pay close attention to safety while swimming, you won't come to any harm.
A: 我剛剛想到其他一些你應該在農曆七月避免做的事。
B: 例如說?
A: 在這個不祥的月份裡,不要結婚或成立新公司。
B: 我懂了。我有一次也曾讀到說,這段時間你不應該去游泳?
A: 沒錯。我們相信溺死的惡鬼可能會趁你游泳的時候試著讓你溺水。
B: 不過,你去游泳時如果多注意安全,就不會出事啦。
(Edward Jones, Taipei Times/台北時報章厚明譯)
English 英文:
Chinese 中文:
Publication Notes
Language Tip 語文小提示
"inauspicious"
Synonyms:
unlucky, unfavourable, adverse,ill-omened, ominous, ill-fated, ill-starred.
Comments will be moderated. Keep comments relevant to the article. Remarks containing abusive and obscene language, personal attacks of any kind or promotion will be removed and the user banned. Final decision will be at the discretion of the Taipei Times.