SPEAK UP ! 雙語會話
Do you believe in ghosts? (4/5) 你相信鬼嗎?(四)
A: Since the gates of the underworld are still open, I've had to adjust some of my habits. I must remember to take in the laundry before nightfall, because hanging clothes could be worn by evil spirits to sneak into our home.
B: Wow, you're really hardcore. What other aspects of your behavior have you adjusted?
A: Let me see. . . I can't play loud music or use the vacuum cleaner at night for the same reason.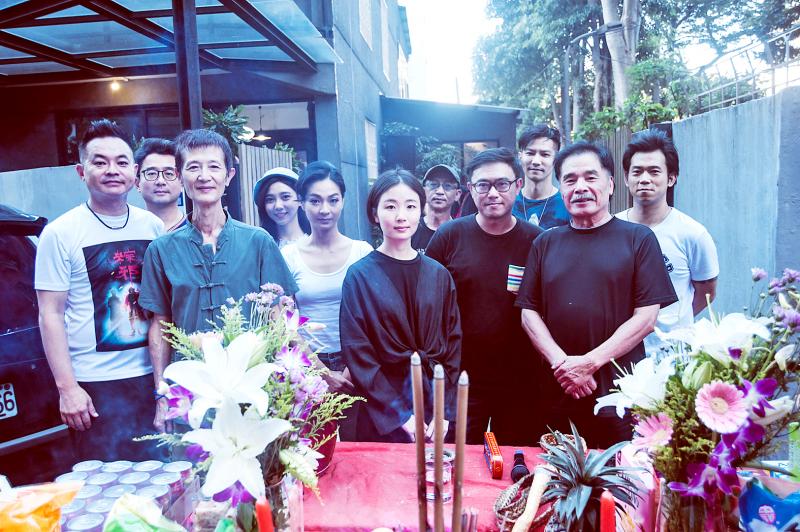 The cast from Taiwanese movie "The Rope Curse 2" hold a ceremony in Taipei on Aug. 31 last year after the gates of hell had closed, to celebrate the start of filming. 《馗降:粽邪2》的演員等到農曆七月結束後,選在去年八月三十一日舉辦開鏡儀式。
Photo courtesy of Eastern Broadcasting Co 照片:華影國際影藝提供
B: Vacuuming at night? I'm glad I'm not your neighbor.
A: 既然地下世界的門還開著,我也必須要調整一些習慣。我要記得在入夜前把洗好的衣服拿進來,因為掛著的衣服可能會被惡鬼穿上,然後偷溜進我們家。
B: 哇,你真的很認真。你還調整了哪些行為啊?
A: 讓我看看……一樣的原因,我晚上不能大聲播放音樂或使用吸塵器。
B: 在晚上用吸塵器?我真高興我不是你的鄰居。
(Edward Jones, Taipei Times/台北時報章厚明譯)
English 英文:
Chinese 中文:
Publication Notes
Language Tip 語文小提示
"Wow, you're really hardcore."
You can use this phrase when you want to say that someone does something in an extreme or intense fashion.
Comments will be moderated. Keep comments relevant to the article. Remarks containing abusive and obscene language, personal attacks of any kind or promotion will be removed and the user banned. Final decision will be at the discretion of the Taipei Times.