Ma's approval rating at 18.7%: survey
HONEYMOON IS OVER: The Taiwan Brain Trust survey found Ma would have lost the election if it were held today, and 78.7% polled were dissatisfied with the new Cabinet
President Ma Ying-jeou's (馬英九) latest approval rating was its lowest in nearly three years at 18.7 percent and he would not have won his re-election bid if the presidential election were held today, according to a public opinion poll released yesterday.
Ma's approval rating was the lowest since August 2009, when he received a 16 percent approval rating after mishandling relief work after Typhoon Morakot, which killed hundreds of people, Taiwan Brain Trust (TBT) chief executive officer Lo Chih-cheng (羅致政) told a press conference yesterday.
Ma saw his approval rating fall by 7.4 percentage points in less than a month after registering 26.1 percent in the TBT's previous survey, released on March 19.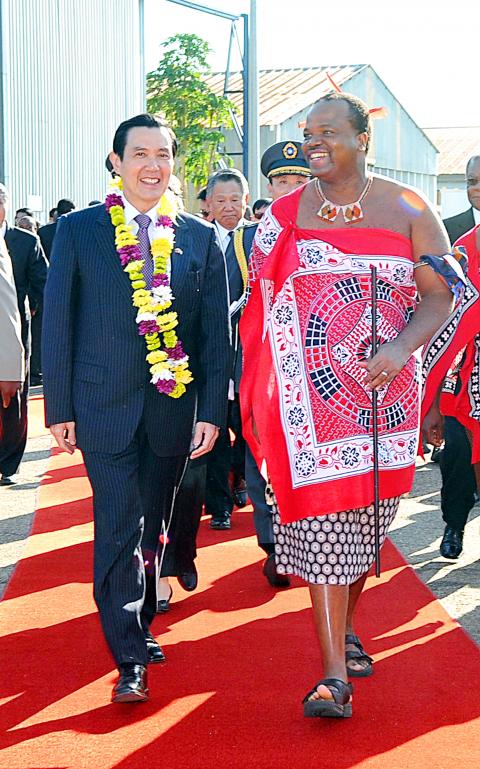 King Mswati III of Swaziland, right, smiles as he walks alongside President Ma Ying-jeou at Swaziland's Matsapha airport yesterday. Ma is on a 12-day trip to visit three of the nation's diplomatic allies in Africa.
Photo: CNA
"It seems to us that Ma did not have the 'honeymoon period' that newly elected presidents usually enjoy because of his failures on many fronts," Lo said.
The latest poll conducted by the think tank, which is generally perceived to be more sympathetic to the pan-green camp, also found that 13.4 percent of those who voted for Ma, who was re-elected in January with 51.6 percent of the vote, would switch their support to former Democratic Progressive Party (DPP) presidential candidate Tsai Ing-wen (蔡英文) and make Tsai the winner with a 40.6 percent vote share over Ma's 22.1 percent if the election were held today.
Ma's approval ratings have plummeted even before his inauguration for his second term on May 20 because of his poor performance and failure to deal with cross-strait issues, rising commodity prices and to safeguard food safety in recent months, analysts said.
On cross-strait issues, 54.1 percent of respondents said they opposed the Ma administration's "one country, two areas" proposal, with 61 percent saying that Ma should withdraw the initiative and 66.3 percent saying they disagreed with the notion that "both sides of the Taiwan Strait belong to one China."
Respondents also showed a great degree of displeasure with the recent fuel, electricity and commodities price increases, with 91.2 percent saying that the increases had affected their livelihood and 85.3 percent unhappy with the Ma administration's handling of commodity prices.
Among the respondents, 61.6 percent said Ma's decision to raise fuel and electricity prices has been "an act of cheating to win votes."
Ma appears to be banking all his "presidential legacy" on cross-strait relations, knowing that there is little he can do in other areas, DPP Legislator Lin Chia-lung (林佳龍) and Soochow University professor Hsu Yung-ming (徐永明) said.
"We should stay alert as to whether Ma makes an even bolder statement on cross-strait relations in his inauguration speech — his last roll of the dice," Lin said.
"Hopefully, the result of this poll will serve as a reminder for Ma against making dramatic moves on cross-strait relations, because his past initiatives — the proposed signing of a peace agreement and the 'one country, two areas' proposal — both failed to win people's support," Lin added.
Meanwhile, the Cabinet led by Premier Sean Chen (陳冲) has also failed to impress people, with 78.7 percent of respondents saying they were not satisfied with its performance.
The survey polled 1,079 people on April 5 and April 6 and has a margin of error of 3 percentage points.
Comments will be moderated. Keep comments relevant to the article. Remarks containing abusive and obscene language, personal attacks of any kind or promotion will be removed and the user banned. Final decision will be at the discretion of the Taipei Times.