US cable reignites Ma green card furor
RESIDENCY RUCKUS: A diplomatic cable quotes a former AIT head as saying Ma's green card status is 'complex.' DPP legislators said this proves that Ma still has US residency
The controversy over President Ma Ying-jeou's (馬英九) US green card status flared up again after recent cables released by WikiLeaks ignited a fresh round of accusations between the Chinese Nationalist Party (KMT) and the Democratic Progressive Party (DPP) yesterday.
The cables, dated between February and June 2008, recently released by WikiLeaks showed that KMT heavyweights had visited the American Institute in Taiwan (AIT) and asked the US to clearly explain Ma's green card status before the 2008 presidential election.
After Ma defeated DPP presidential candidate Frank Hsieh (謝長廷), who had accused Ma of still holding a green card, in the 2008 presidential election, KMT politicians expressed their appreciation for the US' impartiality toward the "dirty tricks" that the DPP had staged.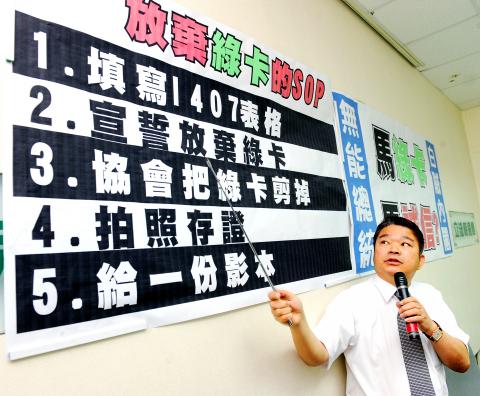 Democratic Progressive Party legislative caucus whip Tsai Huang-liang explains the standard procedure for giving up a US green card in Taipei yesterday. Tsai said President Ma Ying-jeou had not followed any of the required steps.
Photo: Fang Pin-chao, Taipei Times
Then-AIT director Stephen Young was quoted in a cable as telling DPP Chairperson Tsai Ing-wen (蔡英文) in June 2008 that "cases involving green card status are complex."
New Taipei City Mayor Eric Chu (朱立倫), described by AIT officials in the cables as the "KMT's rising star," told Young in April 2008, when he was serving as Taoyuan County commissioner, that he "would have advised Ma to explain [his green card status] clearly and not to call a press conference" when the controversy first surfaced.
Then-KMT chairman Wu Po-hsiung (吳伯雄) and Legislative Speaker Wang Jyn-ping (王金平) were also quoted in the cables as urging the US government to give a clear explanation of Ma's green card status, with Young telling Wu that the "AIT had answered in writing all of Ma's green card-related questions, to the fullest extent permitted by American law."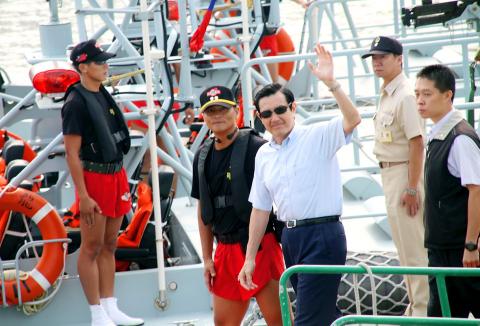 President Ma Ying-jeou, third left, visits military units in Kinmen County yesterday.
Photo: CNA
"We urge President Ma to explain clearly his green card status in 2008 and now," DPP spokesperson Liang Wen-jie (梁文傑) said yesterday.
The dispute over whether Ma's green card remains valid is an "old issue," but Young's answers to Wu and Tsai implied that the case was complex, which would not have been the case if Ma did not possess US permanent residency, Liang said.
Legally speaking, the truth is quite clear, DPP lawyer Hsu Kuo-yung (徐國勇) said, because if Ma's green card is invalid, the issue would not be as complex as Young had described.
Citing the "US Department of State Foreign Affairs Manual," which states that "the fact that the alien was issued a non-immigrant visa for the purpose of making an urgent business trip would not reflect negatively on the retention of resident status," Hsu argued that Ma's excuse does not stand.
Hsu was referring to a statement that Ma made in which he said he entered the US with a non-immigration visa between 1990 and 2006, which showed that his green card was no longer valid.
Responding to reporters' questions yesterday, Hsieh confirmed that he had met with Young prior to the March 20, 2008, election and he was surprised that the cables had been disclosed "so soon."
"It appears that the US did not want to offend Ma at the time, since intelligence showed Ma had a better chance of winning. However, the US at least managed to remain politically neutral after the KMT had applied so much pressure," Hsieh said.
Ma's integrity is more important than his loyalty in this case, because it involves his commitment to the public, he said.
Young's use of the word "complex" suggested that Ma did indeed hold permanent residency status, otherwise Young would have simply denied it, DPP Legislator Tsai Huang-liang (蔡煌瑯) said.
Several KMT politicians, including former Taipei County commissioner Chou Hsi-wei (周錫瑋) and KMT Legislator Lai Shyh-bao (賴士葆), had renounced their permanent US residency by following the standard procedure of filling out the I407 document and taking an oath, Tsai Huang-liang said, adding that Ma should do the same to resolve the issue once and for all.
However, the issue involves more than Ma's integrity and honesty, because the US could use the knowledge to control Ma, Tsai Huang-liang said.
"And that does not serve Taiwan's national interest," added Tsai Huang-liang, who is the DPP's legislative caucus whip.
Saying that a proposed amendment to the Nationality Act (國籍法) that has support across party lines has been held up in the Legislative Yuan for more than 900 days, DPP Legislator Pan Men-an (潘孟安) added that "it seems to me that someone does not want to see this bill approved."
At a separate setting yesterday, Ma's campaign office spokesperson Lee Chia-fei (李佳霏) urged the DPP to refrain from reviving "old issues" in the presidential election, saying that Ma has explained on numerous occasions that his green card has expired.
The US had issued four non-immigrant visas to Ma from 1990 to 2006 upon his entry to the US, proving that Ma's green card had already expired, she said.
"President Ma has not used a green card since the 1980s and has been applying for non-immigrant visas when visiting the US. According to the facts and US immigration laws, President Ma gave up his green card, and the green card is invalid," she said.
KMT spokesperson Lai Su-ju (賴素如) also blasted the DPP, accusing it of manipulating the green card issue to discredit Ma.
"This negative campaign strategy that Hsieh used in 2008 has been proven to fail. President Ma has clarified the issue on numerous occasions. We urge the DPP to refrain from manipulating old issues or resorting to negative campaigning again," she said.
Ministry of Foreign Affairs spokesman James Chang (章計平) yesterday also said the president's green card had become invalid, which he proved by entering the US on a non-immigrant visa.
Chang said his statement was "based on US immigration law," without elaborating.
Reached by telephone yesterday, AIT spokesman Christopher Kavanagh refused to comment on whether the statement made by Chang was consistent with US immigration laws.
"US immigration law is complicated and there have been numerous changes and amendments to US immigration law over the years. There are a variety and factors involved in the US legal permanent residence maintaining and/or losing permanent resident status," Kavanagh said.
Kavanagh restated the AIT's position that it condemns the leaking of diplomatic cables and any illegal disclosure of classified information, adding that it does not speak to the authenticity of any document posted by WikiLeaks.
Additional reporting by Mo Yan-chih and Shih Hsiu-chuan
Comments will be moderated. Keep comments relevant to the article. Remarks containing abusive and obscene language, personal attacks of any kind or promotion will be removed and the user banned. Final decision will be at the discretion of the Taipei Times.