Memorial held for Chen Wen-cheng at NTU site
UNKNOWN: Two associations called on NTU to erect a memorial for Chen at the site where his body was found and record his mysterious death in the school's history
More than 100 people gathered yesterday evening at National Taiwan University (NTU) in memory of former Carnegie Mellon University (CMU) assistant professor Chen Wen-cheng (陳文成), whose death 30 years ago remains a mystery to this day.
Chen, a graduate of NTU's Department of Mathematics, went to study in the US and later became an assistant professor at CMU's Department of Statistics.
He was called by the Taiwan Garrison Command — a military state security agency during the Martial Law era — for interrogation on July 2, 1981, when he returned to Taiwan to visit his family, because of his support for the pro-democracy movement.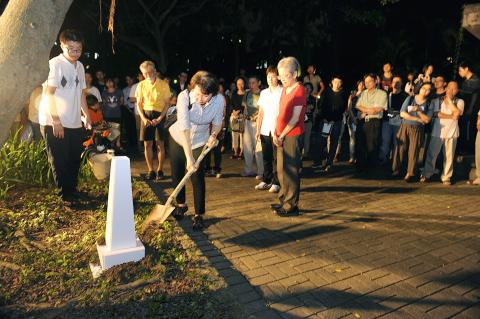 More than 100 people yesterday gathered at the site on National Taiwan University's campus where Chen Wen-cheng's body was found 30 years ago to commemorate his death.
Photo: George Tsormg,Taipei Times
On the morning of July 3, 1981, Chen's body was discovered next to a library on the NTU campus and it was unclear whether his body was deliberately placed there to appear as though he had committed suicide or fallen off the building by accident.
The Garrison Command said they released Chen after the interrogation and that they had nothing to do with his death.
Thirty years later, what really happened that night remains a mystery.
"I am really thankful that so many of you students came out tonight to remember my brother and what happened 30 years ago," Chen's elder sister, Chen Pao-yueh (陳寶月), told the gathering of NTU students, friends and family members at the site where Chen's body was found.
A documentary on Chen was also shown at the service.
"Some people may think what happened to my brother has nothing to do with them. Well, if no one pays attention to such things, one day, what happened to my brother may happen to you too, and by that time, you would regret that you didn't care enough earlier," she said.
She criticized the Chinese Nationalist Party (KMT) party for "not admitting to the bad things they have done," and said that, at the age of 60, the only thing she cares about now is discovering the truth about Chen Wen-cheng's death.
"[Chen Wen-cheng's death] is something big that has happened on our campus. He was an NTU graduate as well, but the school never paid much attention to it and most of students don't know about it, and we think this is not right," said Lin Hsin-yeh (林欣曄), president of the NTU Graduate Student Association. "This is why we've organized this event to commemorate the 30th anniversary of Chen Wen-cheng's death."
She said the association, as well the undergraduate student organization NTU Student Association, would not only like more of their classmates to know about Chen Wen-cheng's story, but also called on the school to erect an official memorial for him on the site where his body was discovered, and to record Chen Wen-cheng's story into the school's history.
The students made their own miniature memorial and placed it on the site where Chen Wen-cheng's body was discovered, hoping that there would be an official one next year.
In addition to the on-campus memorial event, the Chen Wen-cheng Memorial Foundation will organize a concert in his memory tomorrow at 7:30pm at the Civil Service Development Institute in Taipei.
Comments will be moderated. Keep comments relevant to the article. Remarks containing abusive and obscene language, personal attacks of any kind or promotion will be removed and the user banned. Final decision will be at the discretion of the Taipei Times.