Taipei 101 tops Petronas as world's tallest building
The Taipei 101 office building laid claim to the title of the world's tallest skyscraper following a ceremony yesterday to position a 60m spire on top of the structure.
With the addition of the spire, the building boasts of a full height of 508m, eclipsing Malaysia's Petronas Twin Towers, a company executive said yesterday.
"We believe that Taipei 101 will bring a fresh taste to Taipei's skyline," said Lin Hong-ming (林鴻明), president of Taipei Financial Center Corp, owner of the skyscraper.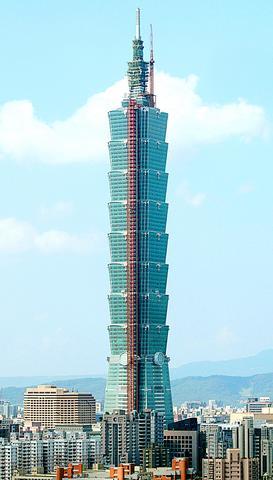 The Taipei 101 tower looms over Taipei after officially reaching 508m to become the world's tallest office building yesterday.
PHOTO: REUTERS
Lin hopes the landmark, though still under construction, will attract more tenants in the Hsinyi district.
Though the leasing of office space is still in its initial stages, Lin expects about 80 percent of the 60,000 ping at Taipei 101 will be leased within 18 months.
"What concerns our potential tenants is how to earn more money after moving into Taipei 101 [with around-the-clock services] rather than saving money through lower rentals," Lin said.
Jones Lang LaSalle Taiwan, the primary leasing agent for the Taipei 101 tower, is not sure about the leasing prospects, however.
"We're seeking the right price and right tenants, who will have long-term occupancies. We're not in a rush," Matthew Shaw, director of Jones Lang LaSalle Taiwan, told the Taipei Times.
Property-market watchers said that slow corporate spending, a lukewarm office market, an increasing supply of office space and high rental rates charged by the Taipei Financial Center could dash the company's hopes.
"Eighty-percent occupancy is an aggressive target. I doubt many potential tenants are available now as big international companies such as Hewlett-Packard Co and IBM Corp just signed new lease contracts for new offices in the area," said Derek Huang (黃正忠), senior manager of Global Research and Consulting at CB Richard Ellis Ltd, Taiwan Branch.
Though Taiwan's economy is showing signs of recovery, the resilience has not extended to the office market, Huang added.
Carol Su (蘇文娟), an analyst with Yuanta Core Pacific Capital Management (元大京華投顧), said there's no sign that corporate spending is rebounding.
For the moment, corporate CEOs are unlikely to rent luxury offices, Su said.
Another factor that could slow Taipei 101's leasing progress is the impact of the Sept. 11, 2001, attack on the twin towers in New York. Su said the attacks appear to have dampened multinational corporations' interest in skyscrapers.
A growing supply of office space in the Neihu and Nankang districts also put the leasing plan in trouble as those offices are attractive to companies looking for lower rental rates, Huang said.
Rents are about NT$1,100 per ping per month and NT$600 per ping per month in the Neihu and Nankang areas, respectively, according to Huang.
The rents will range from NT$3,000 to NT$4,000 per ping for tenants of Taipei 101, an official at the Taiwan Stock Exchange, one of the skyscraper's major shareholders and future tenants, said last month.
Comments will be moderated. Keep comments relevant to the article. Remarks containing abusive and obscene language, personal attacks of any kind or promotion will be removed and the user banned. Final decision will be at the discretion of the Taipei Times.