Environmental Impact Assessment: Needles, sex dolls and plastic: cleaning up Taiwan's beaches
Beach cleanup organizers say the ocean spits up all manner of weirdness, as they attempt to keep the nation's beaches clean and raise environmental awareness
Depending on who you talk to, beach cleanups are valuable opportunities to build environmental awareness, or well-intentioned yet Sisyphean attempts to reduce ocean pollution. There are also cynics who dismiss such events as nothing better than backdrops against which virtue-signaling millennials can take selfies.
Ryan Hevern is in no doubt where he stands.
"We can't clean it all up, and there'll be trash there again tomorrow. We know that, we aren't naive. But if we can help people become more mindful, so they make minor adjustments to their everyday routine, we'll have a more positive impact on the planet," he says.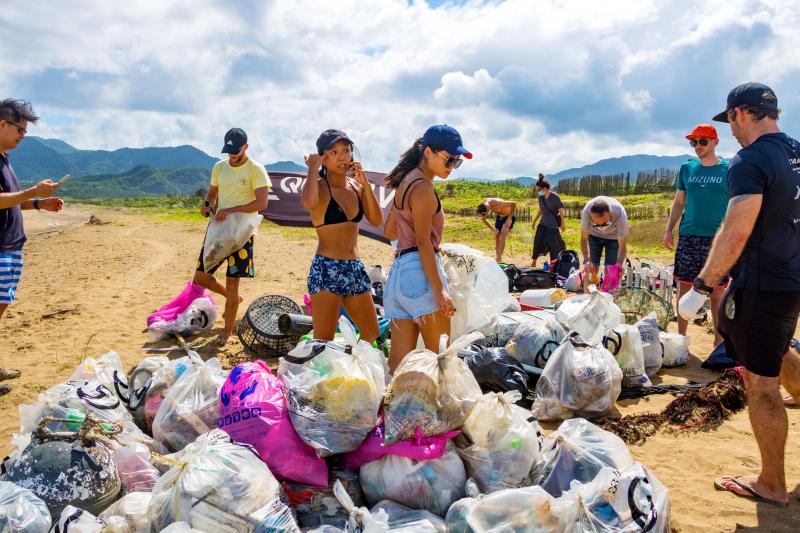 Some of those who took part in Taiwan National Clean Up Day 2021, with some of the trash they collected.
photo courtesy of Ryan Hevern
Hevern is one of the organizers behind Taiwan National Clean Up (TNCU), which this year will be held on May 28 at 24 locations around the country.
The effort began in 2017 as a community outreach activity by Taiwan Adventure Outings, an outdoors-oriented tourism group Hevern co-launched the previous year.
"TNCU started with a desire to give back to Taiwan, our adopted home, and to keep our 'playgrounds' clean," the Californian says. "It started as a beach cleanup, because that's where we found the most garbage, either washed up from the sea or washed down Taiwan's rivers," Hevern says.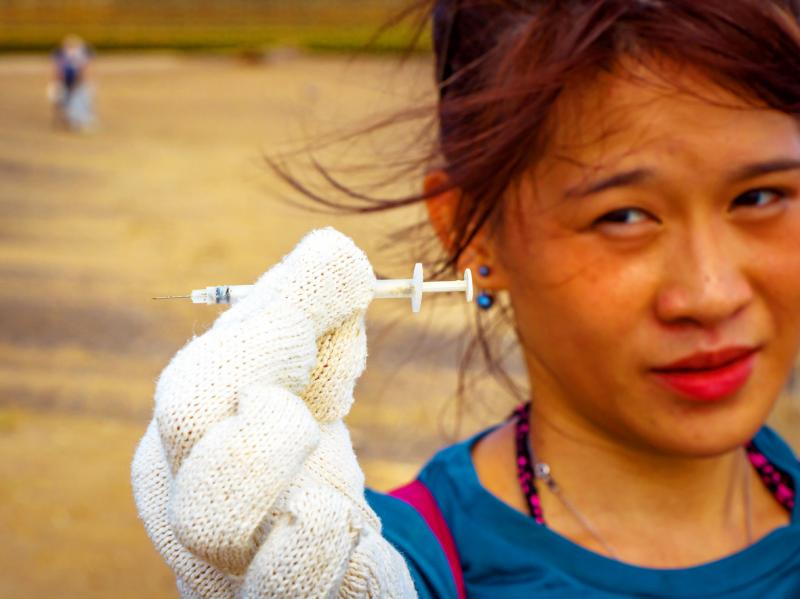 Beach cleanup volunteers occasionally come across dangerous items, such as hypodermic needles.
photo courtesy of Ryan Hevern
But, he stresses, cleaning efforts aren't limited to the coast.
From the get go, volunteers have also been removing trash from woodlands, especially around Shihfen (十分) in New Taipei City.
Hevern characterizes a tourist practice synonymous with that area — the launching of sky lanterns on which sightseers write their wishes — as "abhorrent." The lanterns' paper components don't quickly biodegrade and the metal wiring can entangle birds and mammals.
Volunteers from the Stanford Club of Taiwan pause for a photo during their cleanup at New Taipei City's Green Bay last month.
photo courtesy of Stanford Club of Taiwan
The first beach cleanup effort, on May 20, 2017, tidied five spots in the north of Taiwan and one in Kaohsiung. By 2019, the cleanup had expanded to 20 places, including New Taipei City's Yehliu Geopark (野柳地質公園) and Longdong (龍洞).
Hevern says between 2017 and last year, participants collected around 32.5 tonnes of man-made detritus from coasts and forest floors around Taiwan. This year, he hopes 2,000-plus volunteers will remove at least 10 tonnes of trash.
This is, of course, a drop in the ocean. According to the International Union for Conservation of Nature, at least 14 million tonnes of plastic end up in the ocean every year.
Anyone interested in joining the this year's event can find location details and times at: www.facebook.com/taiwannationalcleanup.
Would-be volunteers living in the north have multiple options, including Baishawan (白沙灣), Jhongjiao Bay (中角灣) and Shimen Kite Park (石門風箏公園) in New Taipei City and Chaojing Park (潮境公園) in Keelung. In the east, Dulan (都蘭) will host an event. Among venues in the south is Kaohsiung's Cijin Beach (旗津海水浴場).
LOW ENVIRONMENTAL IMPACT
The organizers are keen to minimize the carbon emissions and other environmental impacts of the cleanups, Hevern says. At some sites, burlap sacks are used to hold trash, instead of plastic bags.
Every location can be reached by bus, and those who drive are encouraged to carpool.
As in previous years, the Taichung cleanup is to be hosted by Subs, which describes itself as "an environmentally conscious flip flop brand, producing top quality flip flops from recycled plastic."
The Taichung-based, New Zealander-owned social enterprise has been running beach cleanups since its inception, to meet its commitment to remove 1kg of marine debris for every pair of flip flops it sells.
"So far, we've managed to remove 183,955kg of marine debris from around Taiwan and globally, plus recycle 14,473kg of waste plastic into Subs' products," says Justin Lambie, founder and director of Subs.
Much of that has been achieved through partnerships with TNCU and other organizations, Lambie says.
"Before COVID-19, we were hosting beach cleans every other month, and it was easy to get a good crowd to join us," he says. However, since the pandemic began, the number of Subs-backed cleanup events has fallen to about two per year.
PLENTY OF SUPPORT
Another key supporter is Wraptie, which manufactures multi-functional tie-down straps using recycled plastic. Since 2019, Hevern has split the TNCU organizational workload with Wraptie co-founder Mark Blackburn.
Other sponsors providing financial or practical backing to this year's TNCU Day include the Taiwan Sweater Industry Association (台灣毛衣編織工業同業公會), clothing brand Roxy, sportswear brand Koup, industrial design firm Titoma and hiking transportation outfit Parkbus Taiwan.
Hevern says cleanup events must be registered in advance with the local government, a process he describes as "sometimes difficult, but so far never a deterrent."
Each year, Hevern and Blackburn remind cleanup participants they should, as much as possible, separate general trash from recyclables. However, Hevern concedes, much of the latter ends up being incinerated. Due to sea salt and UV light, plastic that has spent time in the ocean tends to be brittle and discolored, and thus unusable for recycling.
Other groups that organize beach cleanups include the Stanford Club of Taiwan (史丹福大學在台校友會). On Apr. 30, the club led a cleanup at Green Bay (翡翠灣) in New Taipei City, as part of Stanford University's worldwide alumni day of community service.
Despite several individuals dropping out at the last minute due to the rise in COVID-19 case numbers, the 19 attendees managed to fill 88 bags with trash.
"Cleanups are a fun and meaningful way to save marine animals and keep toxic chemicals out of the water," the club said.
The club registered its event through a Web page maintained by the Environmental Protection Administration (EPA), ecolife2.epa.gov.tw/Coastal/SeaApply/Select (Chinese only).
Once a cleanup plan has been submitted and approved, the EPA provides gloves, trash bags and tongs, and coordinates with the local government to ensure that whatever volunteers collect is quickly dispatched to an incinerator.
This ensures that whatever is collected is disposed of correctly. However, it gets in the way of thorough analysis of beach trash that would help marine scientists better understand the origins and impact of litter along Taiwan's coastline.
From what Hevern has seen, the fishing industry is the main source of ocean and beach pollution. Much of the rest is single-use plastics, he adds.
"There have been some crazy finds," he says. "Every year, we find hypodermic needles on the beaches. We've come across fake rubber hands that looked so incredibly real that we called the police. We've also found sex dolls. All sorts of stuff, really," he recalls.
Steven Crook, the author or co-author of four books about Taiwan, has been following environmental issues since he arrived in the country in 1991. He drives a hybrid and carries his own chopsticks. The views expressed here are his own.
Comments will be moderated. Keep comments relevant to the article. Remarks containing abusive and obscene language, personal attacks of any kind or promotion will be removed and the user banned. Final decision will be at the discretion of the Taipei Times.