Investigative art
Artist Yao Jui-chung's photographic investigation into Taiwan's "mosquito halls" highlights the power of art in bringing about social change at home and abroad
In January of next year, the winner of the prestigious Asia Pacific Breweries (APB) Foundation Signature Art Prize will be announced in Singapore. In the running for the grand prize is Taiwanese artist Yao Jui-chung (姚瑞中).
An artist by profession, Yao wears many hats. The professor of fine arts is also a historian, investigative reporter and outspoken social activist.
"My work is focused on history and society, especially the political realities of Taiwanese society," Yao told the Taipei Times in a phone interview.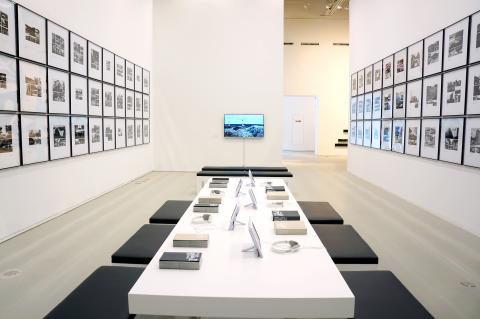 Yao Jui-chung and Lost Society Document, Mirage – Disused Public Property in Taiwan (2010-2013).
Photo courtesy of Yao Jui-chung
Over the last four years, Yao's time has been preoccupied with photographing ramshackle buildings throughout Taiwan for his latest project entitled Mirage — Disused Public Property in Taiwan (海市蜃樓: 台灣閒置公共設施抽樣踏查).
MIRAGES
It's easy for a photographer to get lost in the beauty of old ruins, wandering the grounds and snapping whimsical pictures.
But it wasn't as simple as that. In fact, Mirage was a massive, self-funded undertaking in investigative art. Yao recruited 117 of his students from the National Taiwan Normal University and Taipei National University of the Arts, naming their investigative task force the Lost Society Document (LSD).
Yao says the purpose of Mirage was to "document the process of democracy in Taiwan."
He added that "the project was threefold in nature, comprising of rethinking concepts of democracy, education and photography."
Yao, who is a firm believer of outside-of-class learning, sent his students back to their hometowns to scout out dilapidated buildings with the help of their families. Their task was to photograph and research the histories of these mysterious structures.
"We investigated each specific case — the location, who ran the space and what their budget was," Yao added.
Together, Yao and his students compiled photographs along with facts and statistical data for over 300 sites. They discovered that many of these desolate public buildings were built by taxpayer dollars but were later abandoned because of poor management and sparse visitors — locals did not see a need for "modern" infrastructures within their communities. Over time, the sites became home to mosquitos, earning them the title of "mosquito halls."
The mosquito halls were symbolic of hollow promises. Physically standing but lacking in substance and purpose, they were mirages.
DEVELOPING THE ARTS
The findings of Yao and the LSD were compiled into a collection of 200 black-and-white photographs and a video, all of which will be on display at the Singapore Art Museum as part of an exhibition for the finalists from Nov. 14, 2014 to March 15, 2015.
The goal of Mirage was essentially to raise awareness of the mosquito halls, and subsequently, to effectuate change in government policy, particularly in the direction of developing the arts.
Yao personally liaised with various media outlets from newspapers to television and radio stations. He also distributed picture books and materials about the mosquito halls to different branches of government.
Referring to his students, Yao said, "individually, we are a bunch of nobodies, but when we combine our energy together, we can become a very powerful force to push the government to affect change."
This resulted in a promise to clean up and revive the mosquito halls. Some were converted into thriving sites like artist studios or performance venues. An abandoned junior high school campus in Beitou for instance, was revamped into a free public theater for performing artists to rehearse.
"In Taipei, it's very expensive to rent these spaces. So it's not too much, but it's a start," Yao said.
CULTIVATING SOCIAL CONSCIOUSNESS
Throughout the investigation, Yao was impressed by his students' social consciousness. Their work defied the commonly held perception held by many towards a so-called politically indifferent strawberry generation (草莓族).
Yao says that young artists "are concerned about the development of our society and use various artistic mediums to recreate and rethink art and democracy."
He insists on imparting onto his students a belief that art should not be confined to the high cultured walls of museums, expressing support for young activist artists.
"From issues of identity to land and nuclear energy, young artists are choosing to interrupt society," he said.
"Young people are living in a totally new world and they are using new artistic means to change their future," Yao added.
LSD is also taking their cause overseas. Yao says that although Mirage is Taiwan-centered, there are mosquito halls in other countries, from Europe to Asia. He hopes that the upcoming exhibition in Singapore will enable viewers to see that such structures are a product of globalization.
In his many years as an investigative artist, people from all over the world have asked Yao about social issues in Taiwan. He uses these opportunities to compel artists in other countries to pressure their own governments into rethinking public policy.
"Through art, we can strengthen Taiwan's foreign connections," Yao said.
The Mirage project has shown how when working collectively, artists have the power to influence public opinion and policy, as well as spread awareness of Taiwan's social and political issues to other corners of the world. To Yao and the LSD, this is ultimately more important than winning the grand prize.
Comments will be moderated. Keep comments relevant to the article. Remarks containing abusive and obscene language, personal attacks of any kind or promotion will be removed and the user banned. Final decision will be at the discretion of the Taipei Times.