Restaurant of the week - China Pa (中國父)
Address: 145 Anho Rd., Sec. 1, Taipei
(北市安和路一段145號)
Telephone: (02) 2702-7011
Open: 11:30am - 2am
Average meal: NT$400
Details: English menu available. Credit cards accepted.
Anho Road has never been short on chic spots, and China Pa, which has taken over the spacious premises of the Five Star beer house, has gone all out to impress.
Its entrance, secluded behind vines and iron fencing has a slight aura of the mysterious, and this has been skillfully enhanced by a long hall with museum-style lighting that highlights replicas of Han dynasty statuettes.
The walls of faux-bronze are set off by the tasteful off-white upholstery of the chairs and sofas, strongly suggesting sophistication and a dash of decadence.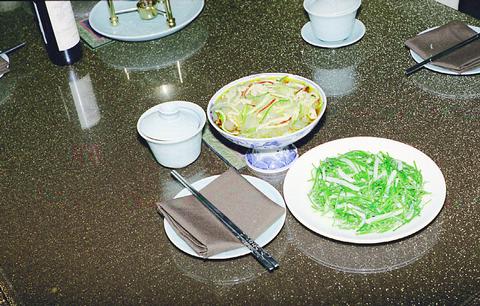 Simple dishes, such as the fried vegetables with garlic and the hot spicy bean jelly are done particularly well at China Pa.
PHOTO: IAN BARTHOLOMEW
According to Max Liu (劉明家), one of the young staff who run China Pa, "everything is for sale except the people," and said that a number of the carved wooden tables had been carried off by guests. The creative force behind the restaurant is Roxy Cheng (鄭德絮), formerly of So Moon (攬月) in Yangmingshan. The design of the bar, with its use of old Chinese medicine cabinets to store guest's personal bottles, and carved story windows lining the shelves, gives the bar a interesting look. On the design front, China Pa definitely has personality. Draft Boddington's is another attraction.
As for the food, Liu said that the menu is still in its developmental stage, but aims to focus on Taiwanese cuisine. The dishes currently available, while nothing particularly out of the ordinary, are well-prepared and elegantly presented. Simple dishes such as the fried vegetables with garlic and the hot spicy bean jelly (麻辣托皮) are both reasonably priced and tasty (NT$200 - NT$300 a dish), while the more showy dishes are less dependable at present.
The availability of a wine and cigar selection makes the most of the luxurious lounge area, which is ideal for sitting around and chatting after a meal. Currently the selection is slanted towards cheaper wines in the NT$1,500 range, and good Cubans can be had for NT$500 and upward.
Live music is provided between 9:15pm to just after midnight, ranging through vocals and instrumental jazz in half-hour sets. The jazz lounge effect is obviously something that China Pa is trying to achieve, but at present, it seems unsure exactly how to define itself, trying to offer a bit of everything.
As a stylish place to hang out and drink, China Pa definitely fits the bill, but it has yet to make its mark as a bar or restaurant. But judging from how far it has come in the two months since it opened, China Pa has considerable potential and deserves to be checked out.
Comments will be moderated. Keep comments relevant to the article. Remarks containing abusive and obscene language, personal attacks of any kind or promotion will be removed and the user banned. Final decision will be at the discretion of the Taipei Times.