Next Bank playing catch-up
DIGITAL TRAILBLAZER: The Web-only bank, which is still waiting for a license, plans to offer deposit, debit card and small loan services by the end of the year
Web-only Next Bank (將來銀行) aims to catch up major online banking services, such as Taishin International Bank's (台新銀行) Richart service or the digital service offered by O-Bank Co (王道商業銀行), general manager Liu I-cheng (劉奕成) said yesterday.
"I admire the two banks and think they are doing a fine job, so my goal is to at least keep pace with them after launching our business," Liu said at a forum organized by the Taiwan Fintech Association in Taipei.
Next Bank is the first among the nation's three virtual banks to clearly announce its plans regarding competition with the nation's existing banks.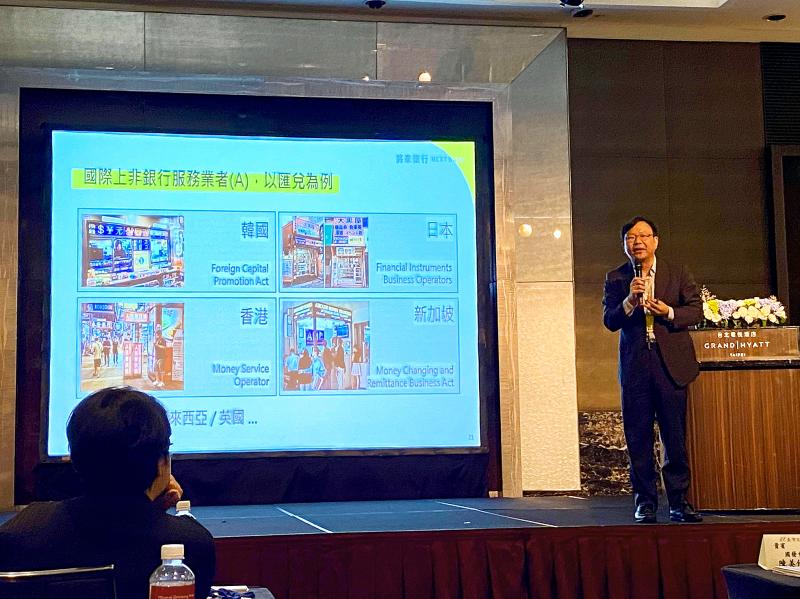 Next Bank general manager Liu I-cheng delivers a speech at a Taiwan Fintech Association forum in Taipei yesterday.
Photo: Taipei Times, Kao Shih-ching
Liu did not elaborate how many clients Next Bank aims to attract in the first year.
Taishin's Richart online service had 2.11 million digital savings accounts as of the end of June, the highest among all banking Internet services, while O-Bank ranked fourth with 441,945 accounts, Financial Supervisory Commission data showed.
Next Bank would rely heavily on big data analysis to set up a competitive business strategy and understand its clients' needs, because as a virtual bank it is not allowed to set up physical branches and it would not be able to interact with customers face-to-face, Liu said.
Given foreign virtual banks' vibrant approach to their customers, such as cooperating with coffee shops to enable customers to buy financial products using the devices at cafes, a similar trend is likely to take place in Taiwan, Liu said.
"As Microsoft's Windows Live Messenger was replaced by newer social network platforms, we virtual banks also have to keep in mind that there will always be new rivals and new competition," Liu said.
Next Bank plans to offer deposit, debit card and small loan services by the end of this year.
In the first quarter of next year it plans to provide foreign-exchange and remittance services for migrant workers to promote inclusive finance, he said.
Unlike in South Korea, Japan, Hong Kong and Singapore, which allow non-banks to provide remittance services, Taiwan limits the service to banks, but migrant workers find the handling fees to be too expensive, he said.
Next Bank would consider providing the service alone or partnering with other banks if the regulator approves, he said.
Given that virtual banks are not allowed to set up a network of automatic teller machines, Next Bank would cooperate with other banks to allow its clients to use their machines to withdraw cash and for other transactions, Liu added.
Next Bank, which in June told the Taipei Times that it expected to begin operations at the end of this month or at the beginning of next month, is still waiting for the Financial Supervisory Commission to complete its review after it submitted its application for an operating license in July.
Comments will be moderated. Keep comments relevant to the article. Remarks containing abusive and obscene language, personal attacks of any kind or promotion will be removed and the user banned. Final decision will be at the discretion of the Taipei Times.