Cotton price hike could be the end of 'cheap fashion'
In the home of cheap clothing manufacturing, the record price of cotton is causing havoc for producers — and the pain will pass down the chain to buyers in developed countries, analysts said.
Bangladesh, the third-biggest producer of clothes worldwide, is one of the cheapest locations for manufacturing in the world and its factories churn out clothing for leading brands from Wal-Mart Stores Inc to Hennes & Mauritz (H&M) AB and Gap Inc.
After reluctantly agreeing to a sharp rise in the minimum wage, under pressure from the government and violent protests from workers, the industry is now grappling with price and supply issues with its main raw material.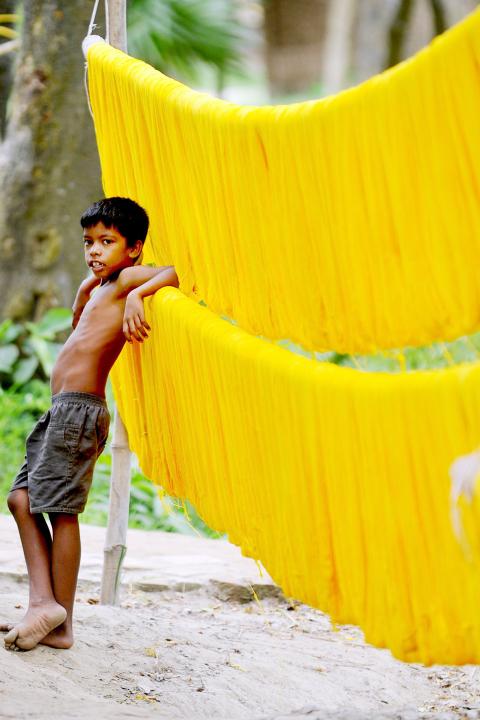 A child leans on a line of dyed cotton hung out to dry in Narshingdi, Bangladesh, on July 27 last year.
PHOTO: AFP
Cotton's price on world markets reached US$1.50 dollars per 0.45kg for the first time on Nov. 9, double its level of 12 months ago.
"Top global retailers have for years cut buying prices of clothing to ensure higher profits for their shareholders, but they must now understand that the era of cheap fashion is all but over," Hasan Khaled, former chief of Wal-Mart's Bangladesh buying office, said last week.
"Western consumers will have to bear some pain of higher cotton prices even though they are facing tough times due to the global meltdown," said Khaled, who now buys clothing for US retailers, such as Sears, Roebuck and Co and JC Penney Co Inc.
Garment-making is the backbone of Bangladesh's economy, accounting for 80 percent of exports, even though the country has no domestic source of cotton.
Instead Bangladesh buys 1 million tonnes of cotton a year, making it the world's second-biggest importer after China, according to the country's commerce ministry.
Although prices on commodity markets have cooled in the last two weeks, Bangladeshi clothing manufacturers are having to manage a crisis.
According to the Bangladesh Knitwear Manufacturers and Exporters Association, most of its members who took orders from Western retailers months ago are being forced to cancel them, renegotiate prices or take a big hit on profit.
"Many buyers understand the situation and they have agreed to raise prices by 30 [to] 40 percent, but even they are not adjusting order prices fully," said Ziaul Islam Chowdhury, head of top producer Knit Asia Ltd.
"As a result, many exporters are being forced to cut profit margins for the sake of reputation. The export figures in recent months show tremendous growth, but it does not show the kind of bleeding going on in the sector," he said.
The government has said it is "deeply worried" about the rising cotton price and has launched a policy of "cotton diplomacy" intended to secure supplies for its industry.
Accompanied by top textile millers and cotton importers, Bangladeshi Commerce Minister Faruk Khan has visited top producing nations India and Uzbekistan in the last month.
"Ensuring cotton supply to our millers is now a national security issue," he said, a day after -returning from Uzbekistan.
Zaena Miller, a London-based clothing analyst for research group Euromonitor, said calling an end to the era of cheap fashion was premature, but warned consumers already face price rises and more will come next year.
Retailers will adopt different pricing strategies depending on their business models, she said. Low-cost specialists will look to absorb as much of the cost as possible, which will reduce their profits, while others will raise prices on some, but not all, of their clothing ranges.
As a general trend, they will try to sell at full price, which means fewer price-cutting promotions and the trend could even be a boon for charity shops where second-hand clothes are on sale at a fraction of their original cost.
"There will definitely be slight price raises," she said. "And next year they will be more noticeable."
Comments will be moderated. Keep comments relevant to the article. Remarks containing abusive and obscene language, personal attacks of any kind or promotion will be removed and the user banned. Final decision will be at the discretion of the Taipei Times.