For families of South Koreans kidnapped by the North, reunions are not a solution
As a lucky few Korean families meet decades after being divided by war, Hwang In-cheol looks on lamenting the absence of his father, whose airplane was hijacked by the North.
Hwang was only two when his father, Won, left for a business trip in 1969, never to return. Now 50, he has spent his life missing a man he only knows from photographs.
On Monday, scores of elderly North and South Koreans who were separated by the 1950 to 1953 conflict met for the first time in decades, hugging each other tearfully.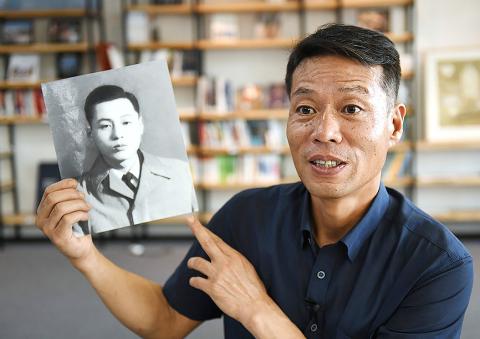 Hwang In-cheol, whose father was kidnapped to North Korea in 1969, holds up a photograph of his father during an interview in Seoul on Thursday last week.
Photo: AFP
However, none of them was among the thousands of South Koreans that Seoul says were kidnapped by the North after the war.
"The sight of the families reuniting looks very nice, but these one-time reunions are not a solution to the problem," Hwang said. "I hope that day for me comes soon. I'm hoping that my father will live until then."
His father was on a domestic Korean Air flight hijacked by a North Korean spy with 47 passengers and four crew members on board.
Months later, 39 people were repatriated, but not Won.
Returning passengers said he was dragged away after resisting efforts to indoctrinate them and questioning the North's ideology.
Hwang's only knowledge of his father is from photographs and the stories told by relatives.
Hwang expected never to see his father again, but in 2000, the two Koreas agreed to include South Korean abductees at reunions for families separated by the war.
His hopes were fueled when one of the stewardesses on the flight, Seong Kyung-hee, met her mother at the 2001 event, and his longing intensified when his own daughter reached the age at which he had last seen his father.
"I could feel how painful it must have been for my father," he said.
However, five years later, the Red Cross informed him that the North had said it was "unable to confirm" whether his father was alive or dead.
Pyongyang almost never admits that it has seized South Korean citizens, putting an extra hurdle in the way of reunions between abductees and family members.
"For us, meeting our family is as hard as plucking a star from the sky," Hwang said.
Comments will be moderated. Keep comments relevant to the article. Remarks containing abusive and obscene language, personal attacks of any kind or promotion will be removed and the user banned. Final decision will be at the discretion of the Taipei Times.