Three South Korean companies illegally imported coal from North Korea: Seoul
Three South Korean firms imported coal from North Korea disguised as Russian products in breach of UN resolutions in a fresh sign of loosening sanctions, South Korea's customs agency said yesterday.
Seoul has been examining nine cases of potential imports of North Korean coal, which would breach a resolution passed in August last year by the UN Security Council to choke off funding for Pyongyang's nuclear and ballistic missile programs.
Korea Customs Service did not identify the companies involved, but said that about 35,000 tonnes of coal worth 6.6 billion won (US$5.84 million) entered South Korea between April and October last year.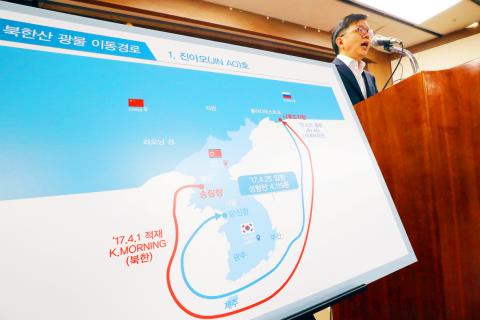 Korea Customs Service Deputy Commissioner Roh Suk-hwan speaks at a news conference in Daejeon, South Korea, yesterday.
Photo: Yonhap via AP
The agency said it would press charges against the firms and individuals involved for contravening customs law and forgery of private documents.
The government also plans to explore an entry ban or seizure of the 14 ships found to have transported the coal, the agency said.
However, there was no financial transaction made, which would constitute another breach of the UN sanctions, as the companies took coal in return for mediating trade between North Korea and Russia, Roh said.
The Security Council banned North Korea from selling coal, iron, iron ore, lead, lead ore and seafood in a bid to slash by one-third the country's US$3 billion annual export incomes, while capping imports of crude oil and refined petroleum products.
Washington has led the sanctions campaign to pressure North Korea into giving up its nuclear and missile programs.
However, across the region there have been signs that US President Donald Trump's campaign for "maximum pressure" has lost steam after Pyongyang sought to improve relations with Washington, Seoul and Beijing.
North Korean officials have toured China to discuss economic development and speculators are snapping up property along their common border, while South Korea is studying ways to boost engagement with the North.
Comments will be moderated. Keep comments relevant to the article. Remarks containing abusive and obscene language, personal attacks of any kind or promotion will be removed and the user banned. Final decision will be at the discretion of the Taipei Times.