FEATURE: The odd-job volunteers 'fixing' Hong Kong politics
As attendance at Hong Kong's traditional protest rallies wanes, one pro-democracy group is trying to win hearts and minds in a more pragmatic way — through plumbing, electricity and household repairs.
Calling themselves Fixing Hong Kong, the group's volunteers mend broken appliances, furniture, pipes and wiring, hoping that forging community spirit would lead to greater political awareness.
The novel approach comes as Hong Kong's freedoms are under threat from an increasingly assertive Beijing and the territory's splintered democracy movement struggles for momentum.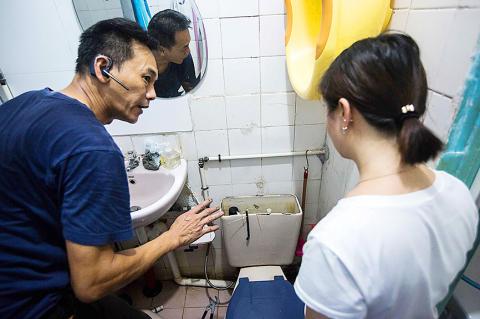 A volunteer plumber, left, on July 19 explains repairs to a resident who requested help from Fixing Hong Kong, a pro-democracy community group, in the Hong Kong neighborhood of To Kwa Wan.
Photo: AFP
Volunteers visit homes in the To Kwa Wan neighborhood each week, making appointments for DIY jobs and offering repair services for free, with residents usually paying for their own replacement materials.
They work in pairs, one fixing, the other chatting. Sometimes the conversation turns to politics, other times not.
"We hope to gather more energy bit by bit through these most simple contacts and bonding," Fixing Hong Kong member Max Leung said.
A resident surnamed Wong said volunteers from the group fixed his television, and helped him and others write letters to officials over concerns that local people were being rehoused in poor conditions to make way for development projects.
"Just one person's power is not enough. We need neighbors joining forces for results," Wong said.
Another resident surnamed Cheng, a wall painter originally from southern China, said he had not discussed politics with the group, but appreciated their help.
A volunteer was fixing a broken strip light in his apartment when reporters visited.
Cheng's apartment is housed in one of numerous rundown blocks in To Kwa Wan, home to low to middle-income families and refugees.
He said he was too preoccupied with daily struggles to join any of the group's activities, which range from barbecues to political campaigns, but did not mind the volunteers' pro-democracy ideas.
"As long as it doesn't hurt me, that's fine," Cheng said.
Fixing Hong Kong was formed by activists who ran a recycling operation at protest camps set up during the 2014 "Umbrella movement" rallies, which called for free and fair leadership elections in Hong Kong.
The rallies failed to win reform and, since then, activists have been prosecuted on protest-related charges and disqualified from the legislature, denting the democracy campaign.
At the same time, pro-democracy politicians have been criticized for losing touch with the grassroots, while some pro-Beijing candidates have become more strategically focused on working-class voters and livelihood issues.
Small groups like Fixing Hong Kong believe that going back to the neighborhood level is the best way to rebuild support.
The approach is a legacy of the rallies and the protests gave a rare opportunity for young Hong Kongers to "become aware of how to communicate and interact with strangers, and to do something together," researcher Klavier Wong (王潔瑩) said.
Although the protest camps that sprawled over junctions and roadways in major commercial areas angered some residents, others embraced the spontaneous tent communities, which included homework areas for students and art installations.
Fixing Hong Kong is one of the best-known community groups to have grown out of the rallies. Other small-scale projects, from urban rooftop gardens to rural farms, have also been set up by activists.
The trend also taps into young people's desire to reconnect with their surroundings as private housing estates and shopping malls erode a sense of community living, said Klavier Wong, who researches social movements and identity in Hong Kong.
Group activities such as reclaiming public spaces for community events might not be directly related to the wider political system, but are still "everyday politics," Leung said.
"This is to regain control in our lives. Ultimately, democracy is like that too, to regain control of the place we live in," he added.
And while volunteer fixer Leung Chan, an electrician, says it can be hard to engage residents in politics when they have a host of daily struggles, he believes the group should persevere.
"If we don't make the first step, then nothing is possible," he said. "First there needs to be trust between people."
Comments will be moderated. Keep comments relevant to the article. Remarks containing abusive and obscene language, personal attacks of any kind or promotion will be removed and the user banned. Final decision will be at the discretion of the Taipei Times.