Belarussian officials call for overhaul of healthcare amid corruption scandal
A massive corruption scandal has rocked the health service of former Soviet Belarus, leading even officials in the country dubbed "Europe's last dictatorship" to call for an overhaul of the system.
Authorities have arrested dozens of medics, drug company representatives and bureaucrats on suspicion of siphoning off millions of dollars in state funding.
Valery Vakulchik, chairman of the powerful KGB state security service, in televised comments last month denounced what he called a vast system of procurement of drugs and medical equipment at inflated prices.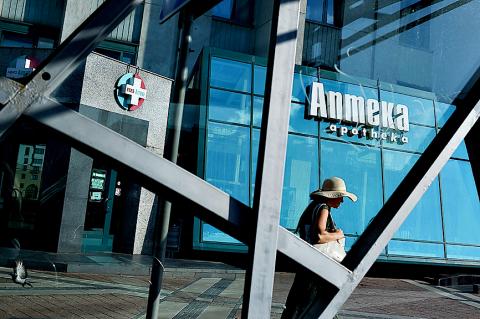 A woman on Tuesday walks past a pharmacy in Minsk, Belarus, where health services have been hit by a corruption scandal.
Photo: AFP
Prices were habitually hiked by up to 60 percent and in some cases even doubled, he said.
Following his announcement, 37 top health officials were arrested and criminal investigations were opened involving 60 people, including local representatives of international pharmaceutical companies.
Vakulchik said that the Soviet-style bureaucracy in the country bordering the EU, ruled by Belarussian President Alexander Lukashenko, had helped promote corruption.
"The existing system of procuring medical equipment and drugs created the conditions for corrupt practices," he said.
"Bona fide suppliers could not rely on a positive outcome," he said, adding that procurements were made not directly from producers, but "via numerous middlemen [and] finance companies."
Those detained in the scandal include Belarussian Deputy Minister of Health Igor Lositsky, doctors at reputed clinics, and leading business figures involved in producing and importing medicines.
One of the arrested businessmen is Iskamed director Sergei Shakutin, who is the brother of one of Lukashenko's close associates.
Belta state news agency has published photographs of searches at the home of a medical center director that uncovered US$500,000 in cash.
Officers also found US$620,000 in the garage of the director of a public enterprise that imported medical equipment.
The KGB chief said bribes paid to corrupt officials amounted to millions of dollars.
"There will be further arrests since the people detained so far are just the perpetrators," said Sergei Satsuk, editor of news Web site Yezhednevnik, who is familiar with the case.
The chief beneficiaries in such schemes were retired law enforcement officials who set up companies to enter the lucrative medical equipment market, Satsuk said.
"In 10 years they drained all the juice out of the country's medical system," he said.
He said this involved supplying equipment that was not just overpriced, but also often lacked the necessary certification or came with faked documentation. Some equipment was imported as second-hand but resold as new.
It is one of the biggest corruption scandals in the history of Belarus, which is wedged between Russia and Poland, and has been led by Lukashenko since 1994.
"Bureaucracy has privatized the state. We need to reform the whole system of state management, otherwise corruption schemes will spring up wherever budget funds are being spent," independent economist Yaroslav Romanchuk said.
Other smaller corruption scandals have in recent years hit the sports, forestry and energy ministries, as well as large companies, factories and banks.
Three ministers have been sacked, and senior bureaucrats and regional officials have been arrested.
"Even if you clean out the state structures of bribe-takers, corruption won't die in Belarus for a single day," Romanchuk said. "The very next day new people in old posts in the old system will relaunch the old corruption schemes."
The system "creates the most powerful temptation to set up schemes with kickbacks, bribes, swindling and abuses of office," Romanchuk said.
Comments will be moderated. Keep comments relevant to the article. Remarks containing abusive and obscene language, personal attacks of any kind or promotion will be removed and the user banned. Final decision will be at the discretion of the Taipei Times.