South Korea relieved over attempts to revive summit
BACK ON TRACK? The South's presidential spokesman said it is 'carefully watching' situation, after Trump's indecision exposed Seoul's fragility as an intermediary
South Korea on Saturday expressed cautious relief about the revived talks for a summit between US President Donald Trump and North Korean leader Kim Jong-un following a whirlwind 24 hours that saw Trump canceling the highly anticipated meeting before saying it is potentially back on.
The statement by Seoul's presidential office came hours after Trump welcomed North Korea's conciliatory response to his Thursday letter withdrawing from the summit with Kim, and said that the meeting might be getting back on track.
Trump later yesterday tweeted that the summit, if it does happen, would likely take place on June 12 in Singapore as originally planned.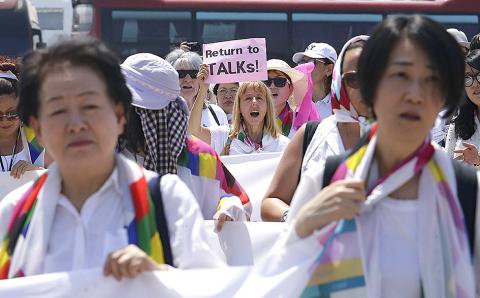 Activists march toward the Unification Bridge, which leads to Panmunjom in the Demilitarized Zone separating North and South Korea, during the DMZ Women Peace Walk in Paju, South Korea, yesterday.
Photo: AP
"We see it as fortunate that the embers of dialogue between North Korea and the United States weren't fully extinguished and are coming alive again," Seoul's presidential spokesman Kim Eui-kyeom said in a statement. "We are carefully watching the developments."
South Korea, which brokered the talks between Washington and Pyongyang, was caught off guard by Trump's abrupt cancellation of the summit citing hostility in recent North Korean comments. South Korean President Moon Jae-in said Trump's decision left him "perplexed" and was "very regrettable."
He said that Washington and Pyongyang should resolve their differences through "more direct and closer dialogue between their leaders."
Moon and Kim held a historic summit in April where they announced vague aspirations for a nuclear-free peninsula and permanent peace, which Seoul has tried to sell as a meaningful breakthrough to set up the summit with Trump.
Trump's back-and-forth over his summit plans with Kim has exposed the fragility of Seoul as an intermediary.
It fanned fears in South Korea that the country might lose its voice between a rival intent on driving a wedge between Washington and Seoul and a US president who thinks less of the traditional alliance with Seoul than his predecessors.
Early this month, North Korea canceled a high-level meeting with Seoul over South Korea's participation in regular military exercises with the US and insisted that it would not return to talks unless its grievances are resolved.
Trump's decision to pull out of the summit with Kim came just days after he hosted Moon in a White House meeting where he openly cast doubts on the Singapore meeting, and offered no support for continued inter-Korean progress.
In his letter to Kim, Trump objected specifically to a statement from senior North Korean diplomat Choe Son-hui. She referred to US Vice President Mike Pence as a "political dummy" for his earlier comments on North Korea and said it was up to the Americans whether they would "meet us at a meeting room or encounter us at nuclear-to-nuclear showdown."
North Korea issued an unusually restrained and diplomatic response to Trump, saying it was still willing to sit for talks with the US "at any time, [in] any format."
Comments will be moderated. Keep comments relevant to the article. Remarks containing abusive and obscene language, personal attacks of any kind or promotion will be removed and the user banned. Final decision will be at the discretion of the Taipei Times.