Spain's Trump lookalike more concerned about her crops than social media fame
A woman in Spain has found unexpected fame on social media after many found she bore a striking resemblance to US President Donald Trump.
A journalist reporting on farming in northwestern Spain posted on Instagram a picture of Dolores Leis dressed in farm clothing with a hoe over her shoulder, prompting thousands of responses.
The 64-year-old has since been asked to comment on pressing US policy and international issues — though she has shown more concern about a moth plague threatening her potato crop.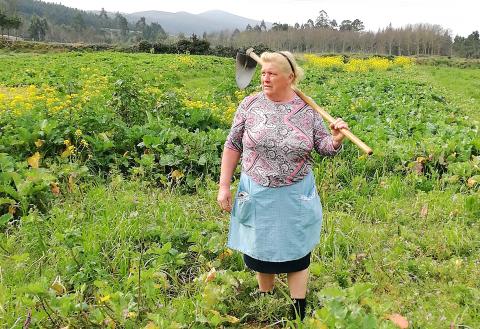 Dolores Leis stands in a field on her farm in Galicia, northern Spain, on Thursday.
Photo: AP
"I say that it must be because of the color of the hair," Leis told La Voz de Galicia on Tuesday.
She is different to Trump on one issue though — she does not use a mobile phone and has little interest in online chatter.
Leis, who appears standing in the middle of her farming plot, her frowning face looking away from the camera and blond hair held by a headband, now has many fans.
"Can we replace Trump with this hardworking lady?" one user asked on Instagram.
Others, who called Leis "Trump's Galician sister," made an online call to research the US president's family roots in the Costa da Morte, or Death Coast, the rocky shore in northwestern Spain with a long history of shipwrecks.
A Galician native who has lived in the same town since she married her husband four decades ago, Leis works at home and at her farm.
Leis told the newspaper she has not felt overwhelmed by sudden fame because, without a smartphone, the online buzz is easy to ignore.
"I look at everything that my daughters show me, but it never stung my curiosity to have one [a phone]," she said.
Comments will be moderated. Keep comments relevant to the article. Remarks containing abusive and obscene language, personal attacks of any kind or promotion will be removed and the user banned. Final decision will be at the discretion of the Taipei Times.