Jordan's King Abdullah urges accelerated reforms
Jordan's King Abdullah II inaugurated a new parliament on Sunday with a call for accelerating reforms that have stagnated in the face of conservative tribal opposition.
For the first time publicly, Abdullah admitted that the government's relationship with the previous legislature "suffered from numerous shortcomings that hindered our reform efforts."
"A strong parliament that exercises its constitutional responsibilities in legislation and monitoring is essential for the realization of our vision for our people," Abdullah told the newly elected 120-seat Chamber of Deputies.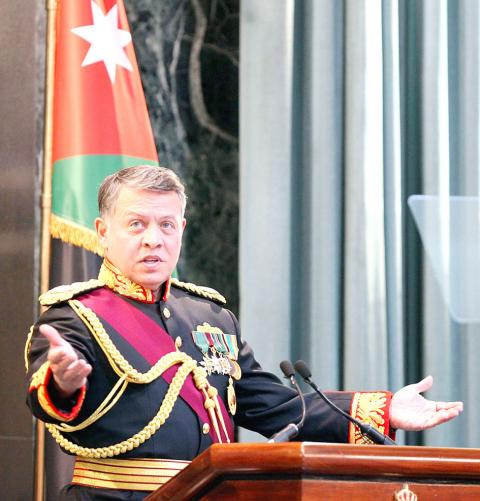 Jordan's King Abdullah II addresses a new parliament during the opening of its first session in Amman, Jordan, on Sunday.
PHOTO: AFP
Abdullah, who enjoys significant powers, dissolved the previous legislature halfway through its four-year term last year amid complaints that its predominantly conservative tribal lawmakers blocked legislation necessary to advance women's rights and adopt policies for an open-market economy.
The king arrived to a lavish military ceremony outside the domed parliament chamber in the heart of Amman. Abdullah, who also holds the title of the supreme commander of the armed forces, inspected an honor guard as 21 guns boomed in a traditional salute.
The Chamber of Deputies met jointly with the 60-member, royally appointed Senate to hear Abdullah outline his policy.
Abdullah said that economic reform would continue to "top our -priorities" as Jordan faces "enormous" economic challenges, partly caused by the global recession.
He said the difficulties include a record budget deficit of US$2.1 billion and high unemployment and poverty.
"Political, economic, social and administrative reforms are interconnected," he said. "We have emphasized, therefore, that economic reform should be accompanied by political reform that increases public participation in the decision-making process."
As a start, he asked lawmakers to amend a controversial election law, which prompted Islamist opposition to boycott the Nov. 9 polls on grounds that the bill devalued votes in areas where they had most support.
The government has been hesitant to change the law, fearing Islamists would regain a majority in parliament, as happened in 1989.
Abdullah also urged a stronger role for the media, women, youth and political parties.
He said administrative and judicial reforms were needed to combat nepotism, corruption and bureaucracy. He also recommended legislation to encourage decentralization.
Later, parliament picked deputy Faisal Fayez as speaker. A former prime minister who hails from a prominent tribal Bedouin family known for its support for the king, Fayez ran uncontested for the speakership.
Comments will be moderated. Keep comments relevant to the article. Remarks containing abusive and obscene language, personal attacks of any kind or promotion will be removed and the user banned. Final decision will be at the discretion of the Taipei Times.