Four Italians killed in Afghanistan
Four Italian troops were killed and a fifth seriously injured in an insurgent attack yesterday in western Afghanistan, NATO and the Italian Defense Ministry said.
The soldiers were ambushed as they returned from a mission in the Gulistan valley in Farah Province, General Massimo Fogari, head of the press service of the defense chief of staff told the television network Tg 24.
They were escorting a convoy of 70 civilian trucks and traveling in an armored car, which took the full force of the explosion of a powerful homemade bomb, the Italian news agency ANSA said.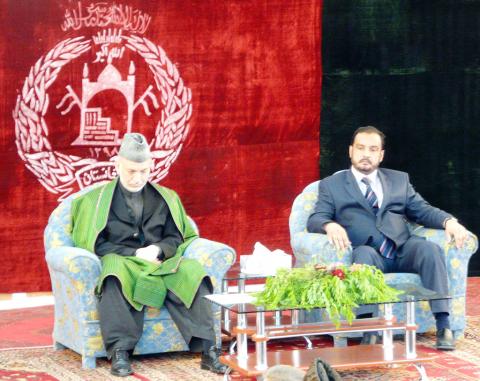 Afghan President Hamid Karzai, left, sits with Kunduz Governor Mohammad Omar during a ceremony in Kunduz, Afghanistan, on April 11. A bomb planted in a mosque in Takhar Province killed Omar and at least 19 other worshipers on Friday.
PHOTO: EPA
"After the blast, the convoy came under fire until the attackers were forced to flee" by the military retaliating, Fogari said.
The wounded soldier was evacuated by helicopter and said to be conscious despite suffering multiple injuries.
The zone where the attack happened is one of three places recently allocated to the control of Italian forces.
The deaths brought the number of NATO forces killed this month to 24 and the number of Italian troops to die in Afghanistan since their deployment began in 2004 to 34.
Meanwhile, NATO and Afghan forces killed two senior Taliban leaders and two other fighters after raiding a compound in eastern Afghanistan, the military alliance said yesterday.
Mullah Hezbollah, who operated in Wardak Province, died in a gunbattle during an operation on Thursday night, NATO said. Another Taliban leader, Qari Sulayman, was also killed along with the two other insurgents in the raid.
A NATO statement said the joint force was fired upon as it approached several compounds in Chaki Wardak district. The force responded, killing the four militants.
A suspected suicide bomber killed at least 20 people on Friday — including the governor of Kunduz Province — in a powerful blast at a mosque packed with worshipers.
Thirty-five people were wounded in the brazen attack in Taluqan, capital of Takhar Province.
The bomb that targeted and killed Mohammad Omar came just days after he publicly warned of escalating threats from Taliban and foreign fighters across the north. If steps weren't taken to counter them, Afghan and coalition forces would face "disaster," he said.
No group claimed responsibility, but the Taliban had targeted Omar before.
Security has been deteriorating for the past two years in Kunduz and surrounding provinces — known hide-outs for the Taliban, al-Qaeda and fighters from other militant factions, including the Haqqani network, Hizb-i-Islami and the Islamic Movement of Uzbekistan.
Comments will be moderated. Keep comments relevant to the article. Remarks containing abusive and obscene language, personal attacks of any kind or promotion will be removed and the user banned. Final decision will be at the discretion of the Taipei Times.