Pig sales to Hong Kong marks first live export since foot-and-mouth outbreak
One-hundred black pigs from Pingtung County were last week shipped to Hong Kong, making them the first live pigs to be exported from Taiwan since an outbreak of foot-and-mouth disease 20 years ago.
Farmer Lee Jung-chun (李榮春), a former recipient of an award for the nation's top 100 young farmers, started breeding the pigs after an eight-year process of genetic screening.
Formerly a maintenance engineer at EVA Air, Lee turned to farming nine years ago during the global financial crisis.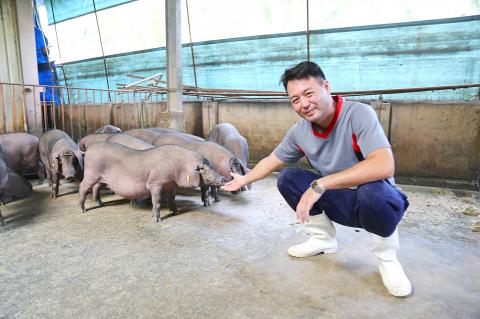 A farmer shows his black pigs in Pingtung County on Sunday.
Photo: Chiu Chih-jou, Taipei Times
Noting that a majority of the pigs raised in Taiwan were a mixture of different breeds, Lee saw an opportunity in the breeding of "pure" black pigs.
Finding the original breed of Taiwanese black pigs was a big challenge, and he had to conduct blood tests for every pig he found, Lee said.
Only about 10 out of every 100 pigs he encountered were found to be purebreds, he said.
Lee received guidance throughout the process from National Taiwan University Department of Animal Science and Technology professor Wang Pei-hua (王珮華).
Lee said he is now able to stably breed purebred black pigs.
The first 100 pigs sold to Hong Kong averaged 60kg, he said, adding that he plans to increase breeding after he receives orders for more.
Pingtung County Department of Agriculture Deputy Director Cheng Yung-yu (鄭永裕) said that as Hong Kong does not have a livestock industry it has to rely on imports for its food needs.
Every nation has its own regulations regarding meat imports, Cheng said, adding that Taiwan and Hong Kong worked out an agreement for last week's sale of live pigs after an inspection was done.
Pingtung also has meat processing plants that sell frozen meat products to Japan on a small-scale basis, he said.
Cheng said he is hoping that Taiwan can be removed from the list of foot-and-mouth disease countries, adding that several departments are working hard to have the country whitelisted.
Pingtung is the second-largest source of pigs in the nation, he said.
The county has begun certifying farms whose meat meet quality standards, he added.
"I hope to see sales of Pingtung pigs, both domestic and international, rise once again," Cheng said.
Comments will be moderated. Keep comments relevant to the article. Remarks containing abusive and obscene language, personal attacks of any kind or promotion will be removed and the user banned. Final decision will be at the discretion of the Taipei Times.