Two Aboriginal groups gain recognition
BEING COUNTED: The groups, who have about 1,100 members between them, celebrated their new status yesterday at the Executive Yuan in Taipei
The Executive Yuan yesterday approved a move to add two more groups — the Kanakanavu (卡那卡那富) and Hla'alua (拉阿魯哇) people — to the nation's 14 officially recognized Aborigine groups.
Hailing from mountain villages in southern Taiwan, Kanakanavu people and Hla'alua people are mainly based in Greater Kaohsiung's Namasiya Township (那瑪夏) and Taoyuan District (桃源) respectively.
The official recognition was welcomed with traditional celebrations, cultural dances and music in a ceremony at the Executive Yuan in Taipei yesterday.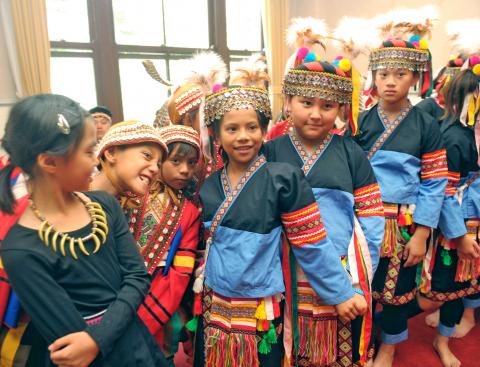 Children of the Kanakanavu and Hla'alua people are dressed in traditional clothing in the Executive Yuan in Taipei yesterday as the two groups were added to Taiwan's officially recognized Aboriginal groups.
Photo: CNA
Kanakanavu people, who number about 600, and Hla'alua people, numbering about 500, have smaller populations than the nation's major Aborigine groups.
An official at the Council of Indigenous Peoples said these groups were previously classified as Tsou (鄒) people, but their languages, cultural traditions and ritual ceremonies differ from those of the Tsou.
An assessment study undertaken by researchers at National Chengchi University's Center for Aboriginal Studies indicated that the two groups each had their own cultural characteristics and ethnic identities, and therefore should be recognized as two distinct Aborigine groups.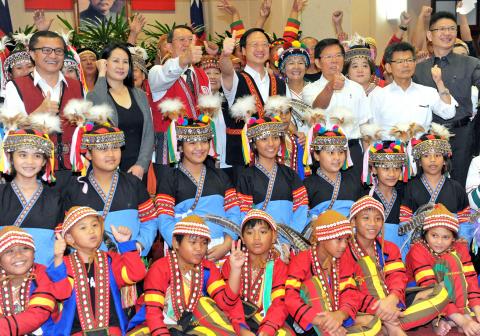 Premier Jiang Yi-huah, back row center, and other government officials pose for a picture in the Executive Yuan yesterday together with children from the Kanakanavu and Hla'alua peoples, who yesterday were added to the nation's officially recognized 14 Aboriginal groups.
Photo: CNA
An earlier, traditional classification held that the nation is home to the so-called "nine mountain Aborigine groups" — the Amis, Atayal, Puyuma, Bunun, Paiwan, Rukai, Saisiyat, Tsou and Yami peoples.
Since 2001, the government has recognized five more Aboriginal peoples: the Thao, Kavalan, Truku, Sakizaya and Sediq.
However, the government has excluded 10 lowland Pingpu Aborigine groups from official recognition, activists have said.
Despite decades of struggle for Aboriginal rights and their lobbying efforts, the government still denies recognition to the Pingpu groups of Babuza, Hoanya, Kaxabu, Ketagalan, Makatao, Pazeh, Papora, Siraya, Taokas and Tavorlong.
Comments will be moderated. Keep comments relevant to the article. Remarks containing abusive and obscene language, personal attacks of any kind or promotion will be removed and the user banned. Final decision will be at the discretion of the Taipei Times.