Ma has history wrong: Lee Teng-hui
Former president Lee Teng-hui (李登輝) yesterday reiterated that the "one country, two areas" proposal was President Ma Ying-jeou's (馬英九) inaccurate interpretation of Taiwan's history and its decades-long democratic development.
"The proposal was a reaction against democracy and a sign of the re-emergence of authoritarianism," Lee said in Donggang Township (東港), Pingtung County, on the first day of his three-day visit to southern Taiwan.
The controversial proposal, which was put forward by former Chinese Nationalist Party (KMT) chairman Wu Poh-hsiung (吳伯雄) during his meeting with Chinese President Hu Jintao (胡錦濤) on March 22 in Beijing, inaccurately implied that Taiwan and China are two administrative areas of the same country, Lee said.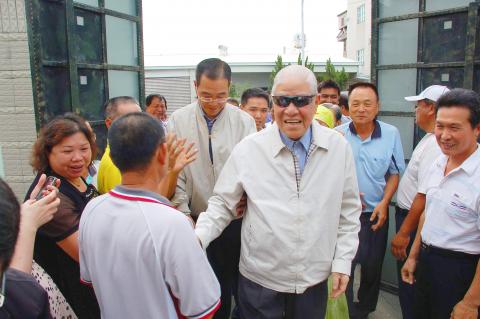 Former president Lee Teng-hui greets people yesterday in Donggang Township, Pingtung County.
Photo: Lee Li-fa, Taipei Times
While Ma cited an amendment of the Republic of China (ROC) Constitution and the Act Governing Relations Between the People of the Taiwan Area and the Mainland Area (臺灣地區與大陸地區人民關係條例) as the legal basis of his initiative, Lee said Ma got the history wrong.
Since the temporary provisions effective during the period of mobilization for the suppression of the Communist rebellion (動員戡亂時期臨時條款) ceased to function on May 1, 1991, Taiwan and China have been considered as "two political entities," Lee said.
The Act Governing Relations Between the People of the Taiwan Area and the Mainland Area was only a domestic law to deal with cross-strait exchanges, he added.
The 88-year-old Lee said it was "not right" that Wu, who served as secretary-general of the Presidential Office under him, spoke as he did and that Ma had been "pathetic" in irresponsibly submitting the proposal.
Lee spoke for 30 minutes on modern Taiwan history since 1895, saying it was crucial to understand history before making deliberations on cross-strait policies and "a large part of Taiwan history has been misinterpreted."
He said he believed he was the best person to address the issue, because "there was no cross-strait policy before me" since former presidents Chiang Kai-shek (蔣介石) and Chiang Ching-kuo (蔣經國) both refused to recognize the existence of the People's Republic of China and initiate contacts.
On the issue of recent fuel and electricity price hikes, Lee said it was inappropriate for him to criticize the president on this issue.
However, Lee said he would have put in more thought and policy deliberation before making such decisions.
"It's not a good thing if [Ma] thinks he can do whatever he wants since he won his second term. A leader should never cheat his people," Lee said.
Comments will be moderated. Keep comments relevant to the article. Remarks containing abusive and obscene language, personal attacks of any kind or promotion will be removed and the user banned. Final decision will be at the discretion of the Taipei Times.