Ignore China on US arms sales: report
'JUST THREATS': The report said that the administration of US President Barack Obama had no cause to be timid over selling advanced F-16 jets and submarines to Taiwan
A new 100-page report on China's reaction to US arms sales to Taiwan concludes that Beijing is "unlikely to challenge any fundamental US interests" in response to significant future sales.
"The [US President] Barack Obama administration has demonstrated unnecessary restraint in its Taiwan arms sales decisions — despite having ample justification for positive considerations," the report said.
A joint project of the US-Taiwan Business Council and the Project 2049 Institute, the report analyzes Chinese reactions to arms sales over the past 33 years and finds they have not been much to worry about.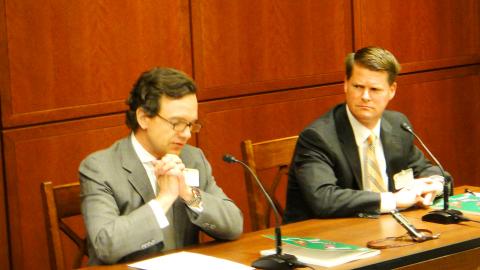 Randall Schriver, president of the Project 2049 Institute, right, and Rupert Hammond-Chambers, president of the US-Taiwan Business Council, speak at a press conference in Washington on Tuesday announcing the release of a joint report entitled Chinese Reactions to Taiwan Arms Sales.
Photo: CNA
Even so, Randall Schriver, president of the Project 2049 Institute, told a meeting held in a US Congressional briefing room on Tuesday, the US government now appears to give more consideration to potential fallout from China than it does to the Taiwan Relations Act.
Schriver added that having done extensive research, "we can clearly say that if you are concerned about the effect of US arms sales on the cross-strait relationship — don't be."
He said there was "absolutely no history of fallout" and that an argument could be made that there was a correlation between US arms sales to Taiwan and breakthroughs in the cross-strait relationship.
Threats of impact on US business, he said, have turned out in the past to be no more than that — "just threats that have not come to fruition."
US arms sales to Taiwan, he said, work the way that they are supposed to work.
Rupert Hammond-Chambers, president of the US-Taiwan Business Council, said that he was convinced that arms sales to Taiwan were "intertwined" with breakthroughs in cross-strait ties.
He said: "The evidence is there. It supports the notion that when the US is unabashedly supportive of Taiwan's legitimate defense needs it provides Taiwan with the confidence it requires to engage China from a position of strength.
"When we don't do it, what we have found is that it is inherently destabilizing and it creates the dynamic in the Strait that the Chinese might potentially feel is an opening for non-peaceful ways to resolve their issues with Taiwan," he said.
The report stresses that while Beijing's responses should be considered and appropriate contingency plans developed, the US should not be deterred by China's reactions even though "limited and largely symbolic retaliations" cannot be ruled out.
It said: "US policymakers express their grave concerns about potential Chinese responses prior to any sale, but those concerns are generally not consistent with the actions carried out by China in the aftermath of the sale."
The report added: "As expectations for an arms package grow, China increases the pressure on Washington to do nothing, or to do less, looking to incrementally reduce the US commitment to Taiwan."
"This pressure takes a toll on the inter-agency review process. While administration officials may not directly engage with China on the issue, Chinese considerations are indirectly factoring into the deliberations," it said.
If Taiwan is to continue with at least some self-determination, the report said, it is "imperative" that the US remains prepared to sell Taiwan all the systems it requires, "not just upgrades and second-hand equipment."
The report argues that China has a well-established track record of responding "negatively and stridently" to public announcements of US arms sales to Taiwan.
However, a close examination of actions taken as a result, show them to have very limited sting — leaving the US with "considerable freedom of action."
The report also said that barring a substantive reduction in the Chinese missile force aimed at Taiwan, the US will continue arms sales for the foreseeable future.
It added: "Excessive caution on new arms sales to Taiwan risks legitimizing PRC [People's Republic of China] use of military coercion."
The US' failure to sell F-16C/D jets and assist Taipei in acquiring diesel-electric submarines appears to stem from fear of Beijing's "anticipated response rather than from Taiwan's needs."
If the US went ahead with the F-16 and submarine programs, the report says that the strongest possible political protest would be the withdrawal of Beijing's ambassador to Washington.
Beijing could also suspend military-to-military relations and adopt less restraint in its licensing of sensitive and militarily relevant technologies to Iran and North Korea, or it could seek to punish US economic interests in China.
However, this last economic option would be limited because of the potential negative effects on broader Chinese interests and because economic and trade-based retaliation could result in the US bringing a case before the WTO.
Comments will be moderated. Keep comments relevant to the article. Remarks containing abusive and obscene language, personal attacks of any kind or promotion will be removed and the user banned. Final decision will be at the discretion of the Taipei Times.