Opening ceremony held for Shoushan National Park after years of hard work
The opening ceremony for the Shoushan National Natural Park (壽山國家自然公園) in Greater Kaohsiung was held yesterday after two years of work by various groups, including investigations into natural resources, consultations with specialists and interviews with local residents and non-governmental organizations.
The park officially opened to public yesterday after it was officially registered on Nov. 1.
The park covers about 1,123 hectares and includes Shoushan, Banpingshan Park (半屏山自然公園), Gueishan (龜山), the old town area of Zuoying District (左營), the Former British consulate at Takao (打狗) and Cihou Mountain (旗後山).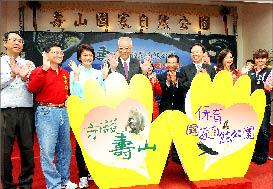 Premier Wu Den-yih, fourth left, and other officials and politicians attend the opening ceremony of the Shoushan National Natural Park in Greater Kaohsiung yesterday.
Photo: Chang Chung-i, Taipei Times
According to the Construction and Planning Agency, Shoushan is the first national natural park to be developed after suggestions from local environmental protection groups, which were also instrumental in pushing the plan forward.
A prominent geological feature of the area is coral limestone, which is evidence that the Earth's crust rose out of the sea along the southwestern coast of Taiwan, the agency said.
The area was previously controlled by the military, so urban development did not encroach into the forest and a variety of animals and plants still inhabit the area, including large troops of Formosan rock monkeys (Macaca cyclopsis), which can often be seen, the agency said.
The park also features an archeological site, where artifacts from ancient Pingpu Aborigines and ruins from the Ming and Qing dynasties have been found.
The agency said the park would be divided into four sub-areas according to their main attractions to better preserve the area.
The four sub-areas are: significant scenic areas, cultural/historic areas, recreation areas and generally protected areas.
Comments will be moderated. Keep comments relevant to the article. Remarks containing abusive and obscene language, personal attacks of any kind or promotion will be removed and the user banned. Final decision will be at the discretion of the Taipei Times.