Migrating crabs to cause Kenting highway closure
'CRAB HOTSPOT' Signs will urge drivers to give the crabs right of way, while volunteers will help catch the crabs and carry them across the highway by hand
A section of highway near Kenting (墾丁) in Pingtung County will be partially closed at certain times later this month and next month to allow the safe passage of female land crabs as they migrate from inland areas to the coast to spawn, the Kenting National Park Administration said.
During the annual peak spawning season between July and November, the sight of land crabs that have been crushed by passing vehicles is common on Provincial Highway 26 along the Shiangchiaowan (香蕉灣) and around Manjhou Harbor (滿州港口).
To help the crabs traverse the road safely, the administration will close the passing lane of the highway from 6pm to 8pm from Sept. 22 through Sept. 24 and Oct. 22 through Oct. 24 from the 39.4km marker to the 40km marker, as it runs between the crabs' normal habitat and their spawning grounds.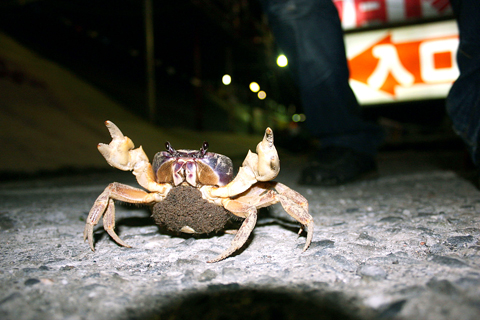 A female land crab crosses a road to a Kenting beach to lay her eggs on Tuesday. This year, the Kenting National Park Headquarters has initiated a policy of traffic reduction to allow the crabs to make the journey safely during the egg-laying season.
PHOTO: CNA
Calling on motorists to drive with caution on that section of highway, the park administration said it would erect traffic signs urging drivers to yield right-of-way to the crabs, which are under threat. It will also launch a campaign seeking volunteers to help the crabs by catching them and carrying them across the highway to the sea.
According to a survey last year, a total of 30 species of land crab have been recorded in the park.
The coastal forest of Shiang­chiaowan is home to at least 24 species of land crab, making it the most diverse known habitat in the world for the creatures, while the estuary of the Gangkou River (港口溪), the area between Sihzikou (溪仔口) and Choufongbi (出風鼻), and Houwan (後灣), also within the park's environs, are likewise crab hotspots.
Comments will be moderated. Keep comments relevant to the article. Remarks containing abusive and obscene language, personal attacks of any kind or promotion will be removed and the user banned. Final decision will be at the discretion of the Taipei Times.