Asian Games: Tang wins Taiwan's sixth gold
DOMINANT: The women's team edged China in extra innings to advance to the softball grand final, but had little success in a 7-0 shutout loss to powerhouses Japan
Tang Chia-hung yesterday made history by winning gold in the men's horizontal bar for the nation's best-ever showing in men's gymnastics at an Asian Games, lifting Taiwan's medal haul to six gold, seven silver and 12 bronze at the Games in Indonesia.
In the final round, Tang scored 8.725 in execution and 6.000 in difficulty for a combined 14.725 points, surpassing China's Sun Wei at 14.500 and Xiao Ruoteng at 14.225.
It was Tang's second medal at this year's Games, following a silver in the men's floor exercise on Thursday.
Tang Chia-hung competes in the Asian Games men's horizontal bar final yesterday in Jakarta. Tang won gold in the event after scoring a combined 14.725 points, helping Taiwan to their best-ever showing in men's gymnastics in the Games, after Tang also won silver in the floor exercise on Thursday.
Photo: Reuters
Combined with Lee Chih-kai's gold in the pommel horse and Chen Chih-yu's bronze in rings, Taiwan garnered two gold, one silver and one bronze in men's artistic gymnastics.
In women's softball, Taiwan took silver after being shut out by Japan 7-0 in the grand final.
Earlier in the day, the national women's team defeated China 5-4.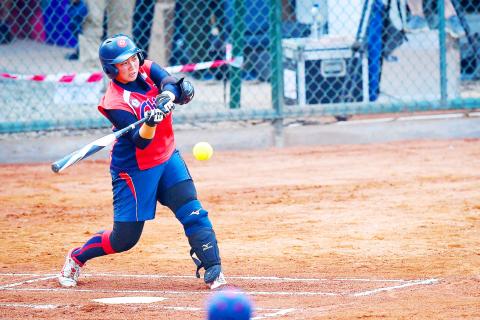 Taiwan's Su Yi-hsuan bats in the Asian Games women's softball grand final against Japan in Jakarta yesterday.
Photo: AFP
Japan had outscored the five other teams in the tournament 45-3 in the round-robin stage, although they only managed a 3-1 win over Taiwan, giving Taiwan some hope in the gold-medal game.
However, Japan scored three runs in the first inning and another four in the second inning to quickly put the game out of reach.
Taiwan's batters were powerless against Japan pitcher Yukiko Ueno, managing only one hit in five innings before the game was called because of Japan's seven-run lead.
Taiwan head coach Yang Hsien-ming said Japan's pitching was the difference, as Japan pitcher Yukiko Ueno was dominant.
"We had a runner on second base in the top of the first inning, but could not get a hit to score at the time," Yang said. "Then the momentum shifted to Japan when they rallied to get hits and got three runs in the bottom of the inning. We could not get anything going after that."
"Today, like throughout the competition, we had to play two games in one day. Our players were tired in the second game, and it showed as our pitchers were not in top form, issuing too many walks to Japan's batters," Yang added.
Ueno also pitched against Taiwan in the final of the 2014 Asian Games, which was won by Japan 6-0.
Earlier yesterday, Taiwan and China were tied 4-4 after the regulation seven innings, but Taiwan scored in the top of the eighth and held on for the victory.
In women's bowling, Taiwan's team of six scored 7,969 points to grab bronze, following a silver in the women's trios on Wednesday.
In tennis, Taiwanese sisters Latisha Chan and Chan Hao-ching overpowered Kazakhstan's Gozal Ainitdinova and Anna Danilina 6-0, 6-0 in just 50 minutes to advance to a women's doubles final today against second seeds Xu Yifan and Yang Zhaoxuan of China.
Latisha Chan expressed satisfaction with their performance and credited their dominance to a successful game plan she and her sister worked out before the match after scouting their opponents a day earlier.
She vowed that they would do their best to win the gold medal, but said that the Chinese duo would be difficult opponents.
There will be few secrets between the pairs, as Yang and Chan Hao-ching regularly play together on the WTA Tour and were semi-finalists at the French Open.
In archery, Taiwan have a chance to add to their medal haul in the compound mixed team event after Pan Yu-ping and Chen Yi-hsuan prevailed 156-138 over Iran's Nima Matbooe and Fereshteh Ghorbani in the semi-finals.
Pan and Chen Yi-hsuan are to face South Korea's So Chae-won and Kim Jong-ho in the gold-medal match on Monday.
Comments will be moderated. Keep comments relevant to the article. Remarks containing abusive and obscene language, personal attacks of any kind or promotion will be removed and the user banned. Final decision will be at the discretion of the Taipei Times.