Asian Games: Taiwan beat Koreas in overtime
KOREA CHALLENGE: Unified Korea's height equalized Taiwan's speed throughout the game, but Taiwan's five field goals in overtime pushed them over the edge
Renewing their fierce rivalry with teams from the Korean Peninsula, Taiwan's women yesterday prevailed in a narrow basketball win, but lost their first soccer match on Thursday in the Asian Games preliminaries.
At GBK Basketball Hall in Jakarta, the two sides were tied at 71 at the end of regulation, before Taiwan edged Unified Korea 87-85 in overtime.
Both teams entered the encounter after picking up wins in their first games on Wednesday.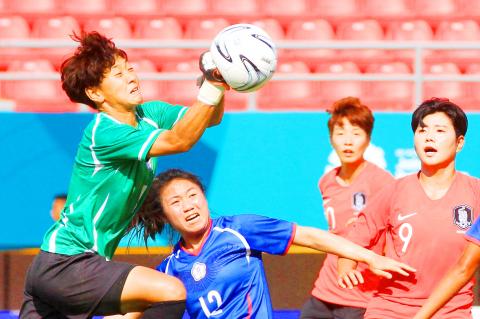 Taiwan's Tsai Ming-jung makes a save as South Korean players look on during their Group A match on Thursday at the Asian Games in Palembang, Indonesia.
Photo: AFP
Unified Korea are considered strong contenders for a medal, as three North Korean players joined their southern counterparts to strengthen the lineup.
Although they enjoy a height advantage, the Koreans had to battle against Taiwan's quick pace and passing game.
The Koreans surged ahead by three points at the end of the first quarter, but Taiwan fought back to reverse the lead and closed out the half at 43-40.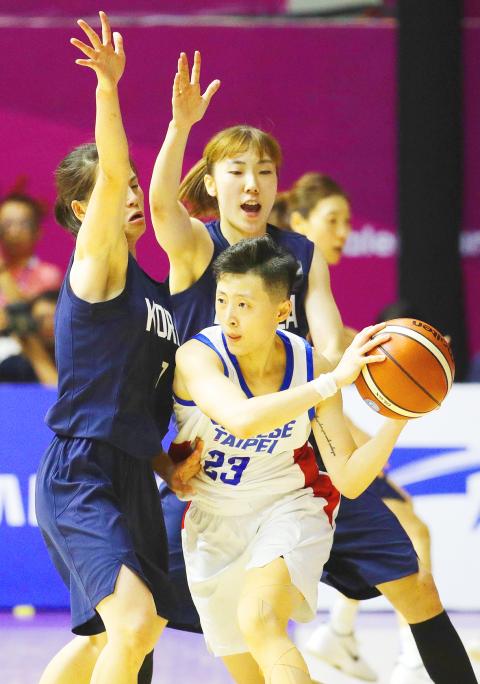 Taiwan's Peng Sze-chin is trapped by Korean players during their match at the Asian Games in Jakarta yesterday.
Photo: AP
In overtime, Taiwan hit five field goals and withstood a furious assault to hang on for the two-point victory.
Control guard Peng Sze-chin tallied 21 points, center Huang Ping-jen hit 17 and forward Cheng Ih-siu added 15 for a combined 53 points from the starting trio, while Taiwanese-American center Joy Burke netted nine points and pulled seven rebounds, despite playing with a minor knee injury.
"We have not beaten the Koreans in major competitions for a long time, so we were determined to defeat them. We were in high spirits and played with a full team effort — that was why we won today," Peng said.
North Korean center Ro Suk-yong was dominant in the paint with 32 points, while South Korean forward Kim Han-byul contributed 26 points.
In women's soccer, Taiwan's "Mulan" team on Thursday fell to South Korea 2-1 in their Group A opener at Gelora Stadium in Palembang.
In the eighth minute, South Korea forward Jeon Ga-eu's shot bounced off Taiwan defender Su Sin-yun to burst into the net, but the goal was credited to Jeon.
A South Korea penalty-kick in the 29th minute provided a chance to pull further ahead, but Taiwan goalie Tsai Ming-jung was up to the task.
In the 53rd minute, South Korea defender Jang Sel-gi collected a pass and smashed a shot inside the box to extend their lead.
Taiwan forward Yu Hsiu-chin stole the ball from opposition's defense and chipped a long shot from outside the box in the 74th minute to score Taiwan's first goal in the Games, but they could not find an equalizer before South Korea ran out the clock.
Comments will be moderated. Keep comments relevant to the article. Remarks containing abusive and obscene language, personal attacks of any kind or promotion will be removed and the user banned. Final decision will be at the discretion of the Taipei Times.