UK government to ban unethical puppy and kitten farms in England 無良幼犬貓繁殖場 英國將取締
The UK government is to ban unethical puppy and kitten farms in England, pledging to end the trade of unscrupulous breeders who keep animals in filthy and cramped conditions and force some to be pregnant many times over.
The environment secretary, Michael Gove, announced on Wednesday that a ban on third-party puppy and kitten sales in England would be introduced. The regulation will mean anyone wanting to buy or home a puppy or kitten will have to deal directly with the breeder or rehoming center. The proposed rule would also effectively prevent the sale of puppies and kittens in traditional pet shops.
Breeders will only be able to sell puppies they have personally bred and online sellers will have to publish their license number and the pet's country of origin and country of residence.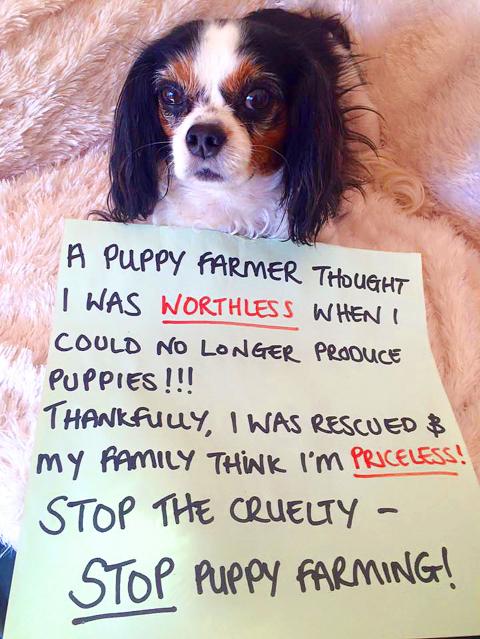 Lucy the rescued spaniel is pictured with a sign that reads "A puppy farmer thought I was worthless when I could no longer produce puppies. Thankfully, I was rescued and my family think I'm priceless. Stop the Cruelty—Stop puppy farming." 自繁殖場中救出的長耳獵犬露西,前面放著一張紙寫著:「我不能再生小狗以後,繁殖業者認為我沒用了!幸好我被救出來了,且收養我的家庭認為我是無價之寶!終止殘酷──終結寵物繁殖場!」
Photo: Screen grab from facebook
照片:擷圖自臉書
The scandal of puppy farms has come to light in recent years, with examples of unscrupulous dealers rearing hundreds of animals in cramped conditions with poor care, taking advantage of the high prices available from pet-owners, especially for sought-after breeds.
The Lucy's Law campaign was named after a severely malnourished King Charles spaniel who was rescued from a breeding site. She had been forced to breed several times a year and her puppies were taken away after just four weeks — half the recommended time.
Gove said the plans would tackle the early separation of puppies and kittens from their mothers, an act that could lead to serious health problems and lack of socialization by the animals.
"A ban on third-party sales will ensure the nation's much loved pets get the right start in life," he said. "People who have a complete disregard for pet welfare will no longer be able to profit from this miserable trade."
Marc Abraham, of PupAid , said irresponsible breeders in the UK and abroad used third parties to hide from buyers, who often bought dogs in good faith, having no idea of the conditions of the puppy's birth.
"By banning third-party sellers, Lucy's Law will ensure all breeders are accountable, making it the first major step in tackling puppy farm cruelty," he said.
(The Guardian)
英國政府將在英格蘭禁止不道德的幼犬貓繁殖場,誓言終結無良繁殖業者的買賣,這些繁殖業者將動物養在骯髒狹小的環境中,迫使牠們生很多胎。
英國環境大臣麥可‧戈夫上週三宣布,英格蘭將禁止經由第三方販售小狗和小貓。這表示任何想購買或收養小狗小貓的人,將來都須直接跟育種者或動物收容所接洽。擬推動的法規也將有效禁止傳統寵物店出售幼犬和幼貓。
育種者只能出售他們自己培育的幼犬,而網路上的賣家則須公開其許可證號碼,以及寵物的出生國和居住國。
小狗繁殖場的亂象近幾年來被踢爆,例如無良業者利用飼主願以高價購買寵物,尤其是熱門品種的心理,而在狹小的空間飼養數百隻動物,且疏於照顧。
「露西法」運動是以露西──一隻嚴重營養不良的查爾斯國王獵犬來命名的。露西是從繁殖場救出的,牠被迫每年生好幾胎,而且牠生的小狗在四週後就被帶走──這是建議時間的一半。
戈夫說,新法規將解決小狗小貓過早與母親分開的問題──這種做法可能會對動物造成嚴重的健康問題,以及缺乏社會化。
「禁止第三方銷售寵物,將確保深受國人喜愛的寵物,從生命的起點就被正確地對待」,戈夫表示。「完全漠視寵物福利的人,將無法再藉這種悲慘的交易獲利」。
動物權益組織PupAid的馬克‧亞伯拉罕說,英國和外國不負責任的繁殖業者以第三方仲介來瞞過買主,通常這些買主是本著誠信原則來買狗,並不知道小狗的出生情況。
「通過禁止第三方賣家,露西法將確保所有育種者都負起責任,這是解決幼犬繁殖場殘忍問題重要的第一步」,亞伯拉罕說。
(台北時報林俐凱編譯)
Publication Notes
TODAY'S WORDS
今日單字
1. unscrupulous adj.
無良的;不道德的 (wu2 liang2 de5; bu2 dao4 de2 de5)
2. cramped adj.
狹小的 (xia2 xiao3 de5)
3. breed n.
品種 (pin2 zhong3)
4. in good faith phr.
誠信地 (cheng2 xin4 de5)
5. accountable adj.
負責的 (fu4 ze2 de5)
Comments will be moderated. Keep comments relevant to the article. Remarks containing abusive and obscene language, personal attacks of any kind or promotion will be removed and the user banned. Final decision will be at the discretion of the Taipei Times.