Japanese pop diva Namie Amuro bids farewell to Taiwanese fans 海外最終場!日本天后安室告別台粉
Japanese pop diva Namie Amuro is set to bid farewell to the showbiz industry in September, as she ends her legendary singing career that has spanned a quarter-century. The singer is currently in the middle of a farewell concert tour and the two concerts scheduled for Saturday and Sunday at the Taipei Arena will be her last shows overseas.
Before her retirement, Amuro released a three-CD greatest hits set, Finally, late last year to celebrate the 25th anniversary of her debut, and the album quickly sold more than 2.55 million copies in Japan alone. This makes her the first and only artist in the Japanese music industry to have sold a million records in her teens, 20s, 30s and 40s.
To leave the pop diva with fond memories of Taiwan, Taiwanese fans have raised over NT$500,000 (about US$16,794) through crowd-funding. They plan to show their love for Amuro via "illuminated images" using LED wall lights outside the Taipei 101 building this evening and again on Sunday evening.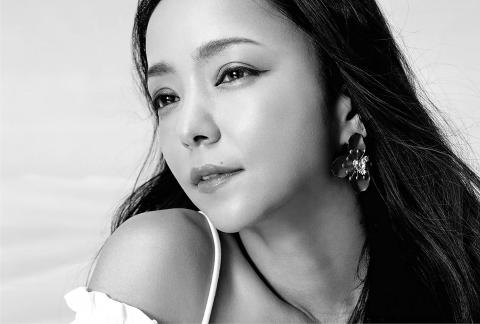 Japanese pop diva Namie Amuro is pictured in this promotional photo released by Swedish fast-fashion brand H&M last month. 日本流行天后安室奈美惠為瑞典快時尚品牌H&M所攝,於上月發布的宣傳照。
Photo courtesy of H&M
照片︰H&M提供
(Liberty Times, translated by Eddy Chang)
日本流行天后安室奈美惠預計於今年九月告別演藝圈,結束二十五年傳奇的歌唱生涯。她目前正舉行告別巡迴演唱會,本週六、週日在台北小巨蛋登場的兩場演唱會,是她在海外的最終場。
安室在引退前,於去年底推出慶祝出道二十五週年的三CD精選輯「Finally」,光是在日本很快就狂賣超過兩百五十五萬張,讓她榮登日本樂壇第一,也是唯一在十幾、二十幾、三十幾、四十幾歲皆有百萬專輯銷售紀錄的歌手。
為了讓這位流行天后在台灣能留下美好回憶,粉絲也展開群眾募資活動,募得逾五十萬元新台幣(約一萬六千七百多美元),打算於今日和週日晚間在台北101大樓「點燈」,透過點亮外牆LED燈圖示表達對她的愛。
Publication Notes
TODAY'S WORDS
今日單字
1. legendary adj.
傳奇的
(chuan2 qi2 de5)
2. overseas adv.
在海外
(zai4 hai3 wai4)
3. retirement n.
引退
(yin3 tui4)
4. music industry phr.
樂壇
(yue4 tan2)
5. illuminated adj.
點亮的
(dian3 liang4 de5)
Comments will be moderated. Keep comments relevant to the article. Remarks containing abusive and obscene language, personal attacks of any kind or promotion will be removed and the user banned. Final decision will be at the discretion of the Taipei Times.