Scuba diving instructor saves endangered sea turtle 潛水教練解救受困保育類海龜
When scuba diving instructor Yin Te-cheng was recently diving with a group at Longdong Bay in New Taipei City's Gongliao District late last month, he spotted a sea turtle trapped in a net that looked as though it was on the verge of death. Yin spent half an hour freeing the turtle from the net.
Yin did not realize the turtle was a critically endangered hawksbill sea turtle until he got a closer look at it. According to Yin, it looked like the turtle had been trapped in the net for several days. It was swimming just three meters from the surface, and a thin layer of seaweed had even started to grow on its shell. Yin hurried to free the turtle from the net without any hesitation.
Hawksbill sea turtles typically inhabit the areas around tropical coral reefs and eat seaweed, algae, and invertebrates such as sponges and urchins. In the past, humans and other animals encroaching on their habitat have threatened their nesting sites. Together with illegal hunting, this has resulted in rapidly decreasing hawksbill sea turtle populations around the world.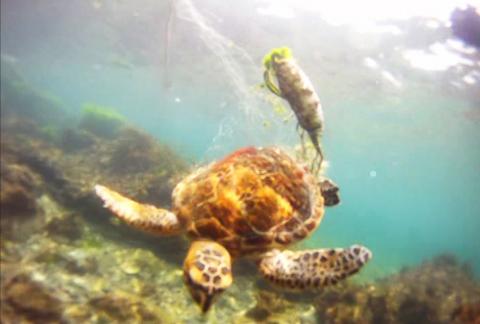 A hawksbill sea turtle struggles to free itself from a fishing net in New Taipei City's Longdong Bay on Aug. 23. 一隻玳瑁八月二十三日於新北市龍洞灣海底,努力掙脫困住牠的漁網。
Photo: Wu Liang-yi, Taipei Times
照片:自由時報記者吳亮儀
An average adult hawksbill sea turtle is about a meter long and weighs on average 80kg. The heaviest hawksbill turtle ever caught weighed 127kg. The turtles are predominantly found in the tropical reefs of the Indian, Pacific and Atlantic oceans.
Yin said the turtle would have drowned or starved to death if it had been freed a few days later. Fortunately, it was found and freed in time. As soon as it recovered its freedom, the turtle swam into the depths of the ocean.
(LIBERTY TIMES, TRANSLATED BY TAIJING WU)
當潛水教練尹德成上月底在新北市貢寮區龍洞灣帶著一群人潛水時,發現一隻海龜遭漁網纏住,似乎已奄奄一息。教練花了半小時才解開網子,將牠放走。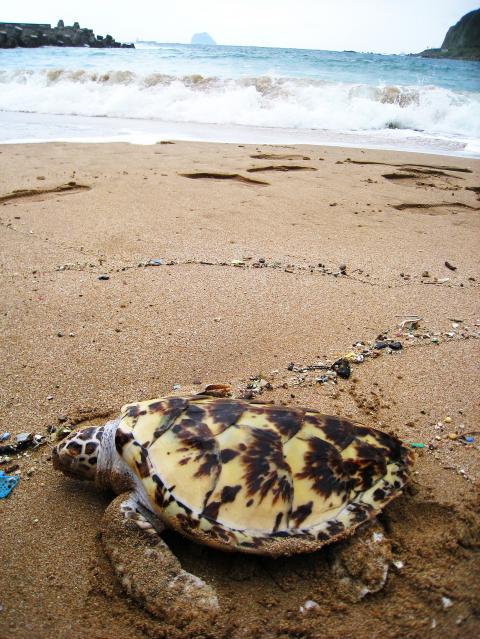 A hawksbill sea turtle crawls toward the sea after students from National Taiwan Ocean University who took care of it for four months release it back into the wild on Dec. 24, 2010. 這張攝於二零一零年十二月二十四日的照片,是一隻玳瑁在受到國立海洋大學學生照顧四個月後,重獲新生爬向海洋。
Photo: Yu Chao-fu, Taipei Times
照片:自由時報記者俞肇福
在尹德成更靠近觀察前,他並不知道這隻烏龜是保育類的玳瑁。他說那時海龜似乎已經受困多天,只距離水面約三公尺游泳,連龜殼都長出薄薄一層海藻。教練不假思索便趕緊替牠解開漁網。
玳瑁多居住在珊瑚礁區附近的水域,以珊瑚礁的海藻、海草及海綿、海膽等無脊椎動物為食。過去人類與動物因侵占棲息地威脅築巢地,加上非法捕捉,使全世界玳瑁族群急速減少。
成年玳瑁身長大約一公尺,平均體重八十公斤。曾經捕過最重的玳瑁有一百二十七公斤重。這種海龜普遍分布於印度洋、太平洋,與大西洋的熱帶珊瑚礁。
尹德成說,若是再晚幾天解開漁網,這隻海龜一定會溺死或餓死,幸好及早發現解救那隻海龜重獲自由後,便往大海深處游走。
(自由時報記者吳亮儀)
Publication Notes
TODAY'S WORDS 今日單字
1. on the verge of death
prep. phr.
奄奄一息 (yan1 yan1 yi1 xi2)
例: Everyone was shocked to see her quick recovery because she was on the verge of death for days.
(每個人見到她這麼快復原都很驚訝,因為她連續數天奄奄一息。)
2. inhabit v.
居住 (ju1 zhu4)
例: We still don't known which species inhabited the island millions of years ago.
(我們至今尚不知數百萬年前居住在這島上是哪個物種。)
3. predominantly adv.
普遍地 (pu3 bian4 de5)
例: The population of the Philippines is predominantly Catholic due to centuries of Spanish colonization.
(由於受到西班牙幾世紀殖民,菲律賓人民普遍地信仰天主教。)
Comments will be moderated. Keep comments relevant to the article. Remarks containing abusive and obscene language, personal attacks of any kind or promotion will be removed and the user banned. Final decision will be at the discretion of the Taipei Times.