Russia denounces new US sanctions
ECONOMIC HIT: The rouble sank to its lowest since 2016 against the US dollar, while further 'draconian' sanctions could be imposed if Russia does not comply
The Kremlin yesterday branded as "unacceptable" new US sanctions against Russia over its alleged role in a nerve agent attack on a former spy, as the ruble and Russian stocks tumbled.
The US Department of State on Wednesday said the sanctions were in response to "the use of a 'Novichok' nerve agent in an attempt to assassinate UK citizen Sergei Skripal" — who was a Russian double agent — and his daughter, Yulia, on English soil in March.
They are aimed at punishing Russian President Vladimir Putin's government for having "used chemical or biological weapons in violation of international law," department spokeswoman Heather Nauert said in a statement.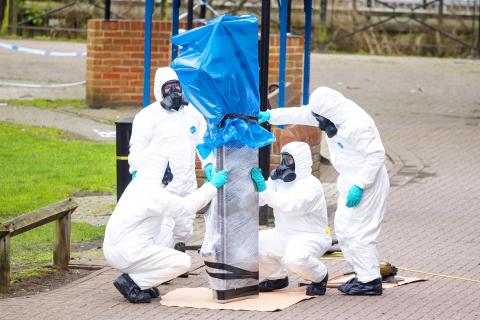 Army officers on March 23 remove the bench where Sergei Skripal and his daughter, Yulia, were found in Salisbury, Britain.
Photo: EPA
The measures were welcomed by Britain, but triggered a furious response from Moscow.
"We consider categorically unacceptable the linking of new restrictions, which we as before consider illegal, to the case in Salisbury," Kremlin spokesman Dmitry Peskov told journalists, but added: "Moscow retains hopes of building constructive relations with Washington."
The ruble sank to 66.48 against the US dollar, its lowest since November 2016, while the Russian stock market index RTS dropped 3.2 percent and the MOEX nearly 1.2 percent, before rebounding slightly.
Russian banks were also affected, with shares in state-run Sberbank sliding 4.7 percent.
The move could cut off hundreds of millions of US dollars worth of exports to Russia, said another senior department official, who requested anonymity.
The administration decided to impose a "presumption of denial" for the sale to Russia of "national security-sensitive" US technologies that require federal government approval, the official said.
Such technologies have often been used in items such as electronic devices and calibration equipment. The exports were previously allowed on a case-by-case basis.
In the event of non-compliance, a second round of "draconian" sanctions would be given a green light, the official said, adding that these could go as far as a ban on Russian airlines using US airports.
A spokesman for British Prime Minister Theresa May said the sanctions send "an unequivocal message to Russia that its provocative, reckless behavior will not go unchallenged."
The Guardian on Monday reported that London is preparing to ask Moscow to extradite two Russian citizens suspected of carrying out the Salisbury nerve agent attack in March.
Comments will be moderated. Keep comments relevant to the article. Remarks containing abusive and obscene language, personal attacks of any kind or promotion will be removed and the user banned. Final decision will be at the discretion of the Taipei Times.